Guided Endodontics / edited by Niraj Kinariwala and Lakshman Samaranayake
Springer Nature Switzerland AG 2021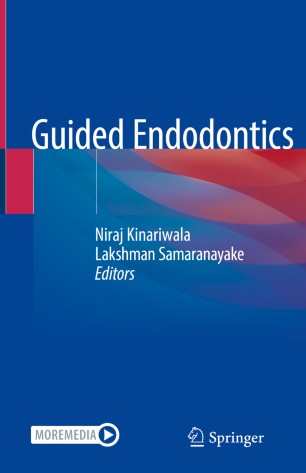 "

This superbly illustrated book provides a comprehensive overview of guided endodontics, a technology-driven treatment approach that represents a paradigm shift in endodontic therapy and offers predictable solutions in cases of partial or complete root canal calcification and root end surgeries. Guided endodontics has proved to be a safe, clinically feasible method for the location of root canals and prevention of root perforations. Preoperative CBCT scans are aligned with intraoral 3D scans using special software, allowing virtual planning of the root canal access cavity. Subsequently, a 3D template can be produced to guide the drill into the calcified canal. This virtual planning helps to preserve the tooth structure and avoid procedural errors.

All of

these aspects are fully covered in the book, with detailed step-by-step instruction on the use of static guides and dynamic navigation systems in non-surgical treatments. The role of static and dynamic guidance in surgical endodontics is also explained, and a concluding chapter addresses future trends in 3D guidance in endodontics and other fields of dentistry.

"

From publisher's website




Clinical Management of Orthodontic Root Resorption / edited by Glenn T. Sameshima
Springer Nature Switzerland AG 2021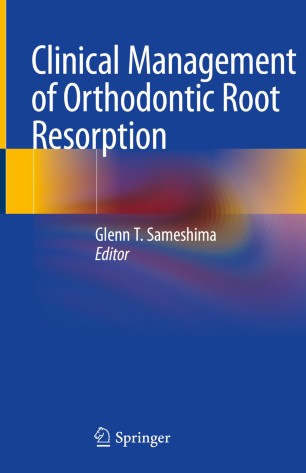 "This book is exceptional in being dedicated solely to root resorption caused by orthodontic tooth movement. While the core content is based on scientific evidence, the book is intended as a practical aid for the clinician who performs orthodontics. After explanation of the different types of root resorption, a series of clinically oriented chapters focus particularly on external apical root resorption. Readers will find clear guidance on etiology, risk factors, diagnosis, imaging, patient management and education, and treatment options. The long-term prognosis of teeth with resorbed roots is thoroughly discussed, and advice is provided on the measures that should be adopted if severe root resorption is encountered during or at the end of treatment. Valuable information is also presented on the practice management side of the problem, covering informed consent, record keeping, and documentation of risk. The closing chapter examines likely future directions in root resorption management. The principal author has lectured and published on the subject for more than 25 years and is internationally recognized as a leading authority. This is the FIRST book solely dedicated to orthodontic root resorption!"
From publisher's website
Springer Nature Switzerland AG 2021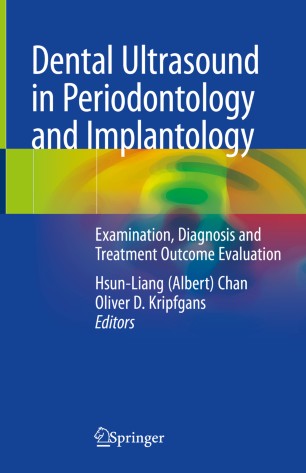 "This book presents up-to-date information on promising indications for
ultrasound
in contemporary periodontics and implant therapy with the aim of assisting researchers and dental practitioners to use this novel imaging modality to advance research and patient care. Readers will find clear guidance on the application of
ultrasound
for evaluation of periodontal and peri-implant tissues. The mechanism of
ultrasound
imaging is explained in detail and compared to other imaging modalities. Furthermore, the role of
ultrasound
in the planning and execution of implant surgery and the assessment of implant stability is discussed. The book closes by considering the potential dental applications of functional
ultrasound
and volumetric
ultrasound
. This book will potentially be of high values for dental surgeons, periodontists, general dentists, orthodontists, dental hygienists, dental assistants, dental researchers and other practitioners, etc."
From publisher's website
Bioceramic
Materials in Clinical Endodontics / edited by
Saulius
Drukteinis and
Josette Camilleri
Springer Nature
Switzerland
AG 2021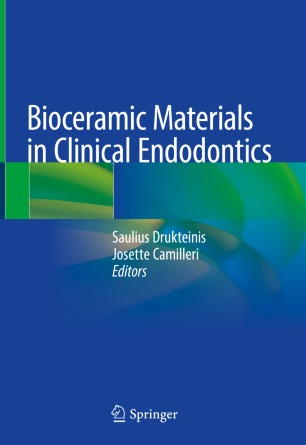 "This book focuses on hydraulic calcium silicate-based materials available in clinical dentistry, used as pulp capping materials, root canal sealers, root-end fillers, or root repair materials and which offer improved properties and easier clinical application compared with the original mineral trioxide aggregate. The book introduces the current classification of
bioceramic
materials and explains their characterization and their physicochemical and biological properties. Thereafter, the various clinical applications of these materials are discussed in depth with reference to the evidence base. The coverage includes applications in endodontic treatments and complications, traumatic dental injuries, management of the vital pulp in both dentitions, and regenerative endodontic procedures. Apart from presenting the latest research on hydraulic calcium silicate-based materials,
Bioceramic
Materials in Clinical Endodontics promotes an essential balance between basic laboratory and clinical research. It will thus be an important reference for materials science specialists, clinical researchers, and clinicians."
From publisher's website
Springer Nature Switzerland AG 2021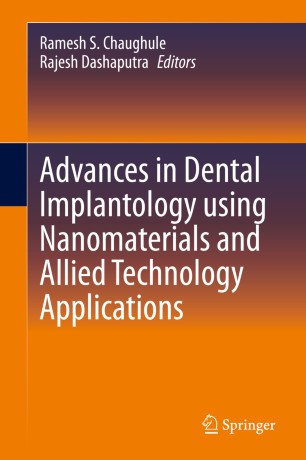 "As the name suggests this book discusses how nanotechnology has influenced the provision of implant treatment from surgery to prosthetic reconstruction and post treatment biological complications. This book is a sequel to the earlier book "Dental Applications of Nanotechnology" published by Springer. It aims to present both the nanotechnology and allied research along with the clinical concepts of almost every different aspect of implantology in one volume. These two fraternities promote the translation of the research ideas and product development into fruitful practicalities. The first section covers
nanobiomaterials
in implant applications, in bone regeneration, prosthetic rehabilitation, to control biofilm and peri-implantitis, bone grafting and tissue engineering. The second section explores applications of such new technologies in the field of implantology that gives this book a unique feature by bringing science and technology into clinical application. It covers implant stability, peri-implantitis, lasers, CAD/CAM technology, impressions, 3D printing, reconstruction with bone grafts and zygomatic implants. Comprehensive coverage includes both simple and complicated clinical cases, with practical guidance on how to apply the latest research, diagnostic tools, treatment planning, implant designs, materials, and techniques to provide superior patient outcomes.
The book is well written and structured making it easy for experienced clinicians and those new to dental implantology as well as students, researchers, scientists and faculties of dental universities." From publisher's website