Books
McDonald and Avery's dentistry for the child and adolescent, 10th edition / edited by J.A. Dean
Elsevier, 2016
Stacks RK55 .C5 D44 2016X
"You can count on McDonald and Avery: the go-to source for expert, complete coverage of oral care for infants, children and teenagers. This dentistry text by Jeffrey A. Dean discusses pediatric examination, development, morphology, eruption of the teeth, and dental caries in depth--and emphasizes prevention and the treatment of the medically compromised patient. Boasting a new design, it equips you with the latest diagnostic and treatment recommendations in the fast-growing field of pediatric dentistry.
UPDATED! More emphasis on preventive care and treatment of medically compromised patients helps you provide more effective care.
NEW! Easier-to-follow design with the text organized in five new major categories and the chapters aligned by topic.
Complete, one-source coverage includes the best patient outcomes for all of the major pediatric treatments in prosthodontics, restorative dentistry, trauma management, occlusion, gingivitis and periodontal disease, and facial esthetics.
The clinical focus includes such topics as radiographic techniques, dental materials, pit-and-fissure scalants, and management of cleft lip and palate.
Practical discussions include practice management and how to deal with child abuse and neglect." Taken from back cover
Also available online
McCracken's removable partial prosthodontics, 13th edition / by A.B. Carr and D.T. Brown
Elsevier, 2016
Course Reserves RK665 .M38 2016Y
"The standard in prosthodontics for nearly 50 years, this full-color text walks readers through all the principles and concepts surrounding removable partial denture treatment planning and design that today's practitioners need to know. Using an evidence-based approach, this new edition incorporates the latest information on new techniques, procedures, and equipment, including the following:
Expanded information on the use of implants with removable partial dentures highlights considerations in treatment planning, including the selection of implants and provisions of care utilizing dental implants.
Standardized removable partial denture designs offered for application to the major categories of patients seen in practice.
More information on dynamic communication, which incorporates the progress being made in shared decision making with patients, especially regarding decisions made in light of patient values and 'trade-off' considerations.
From initial contact with the patient to post-treatment care, McCracken's is the complete foundation today's dentists need to successfully practice prosthodontic care." Taken from back cover
Textbook of endodontics, 3rd edition / by N. Garg and A. Garg
Jaypee Brothers Medical Publishers, 2014
Stacks RK351 .G374 2014
"Endodontics has become so important in the last several decades that books which condense all of the techniques and treatment options are certainly looked-for. Written by the two leading authorities on this important aspect of dentistry, Drs. Nisha Garg and Amit Garg have accumulated a tremendous amount of knowledge to summarize this important information into easy-to-read chapters. This compact yet comprehensive work clearly portrays their efforts. The authors have invested extensive time and effort to freshly describe the existing literature and have added interesting chapters like Endodontics Failures and Retreatment, Tooth Hypersensitivity, and Tooth Infractions." Taken from foreword
"Extensive and point-wise coverage of the subject in simple manner incorporating the recent trends, current updates and new concepts

Includes 39 chapters covering all the important topics related to endodontics

Detailed coverage of topics like pulp pathologies, internal anatomy, access preparation, irrigation, cleaning and shaping, obturation, traumatic injuries and many more

Incorporates more than 1,800 illustrations and clinical tips for an easy understanding and grasp of the text

Numerous case-photographs contributed by dedicated, outstanding, experienced clinicians and eminent teachers

Points to Remember will help in easy and quick revision of the subject in a short span of time

Includes self-assessment questions of the subject from university papers

Highly beneficial to undergraduates, postgraduates, general practitioners and the students preparing for PG entrance examination." Taken from back cover
Includes two CD-ROMS
Specialty imaging: dental implants / edited by D.F. Tamimi, et al.
Amirsys, Inc., 2014
Stacks RK667 .I45 S643 2014Y
"Specialty imaging: dental implants begins with the basics of implant dentistry (the
anatomy and nomenclature of dental implants and biological and biochemical considerations) then discusses patient selection and considerations for implant placement in different edentulous schemata. It then describes the imaging toolbox in order to inform clinicians of available imaging options, the pros and cons of each, and how to utilize these options in evaluating planned implant sites. The radiographic analysis section commences with a review of normal anatomy as is relevant to implants and then tackles some of the more common pathology encountered when evaluating radiographic data for implants, providing dental implant correlations when applicable. The subsequent section on alveolar process augmentation illustrates options available in cases where radiographic findings are within normal limits and the alveolar process has been found to be atrophic. The book concludes with sections on postimplant placement imaging protocols, the radiographic appearance of success, and the radiographic appearance of complications associated with dental implant treatment." Taken from

P

reface, xi
DAT 2016: strategies, practice, and review / by the staff of Kaplan Inc.
Kaplan Inc., 2015
Course Reserves RK57 .D383 2015Y
"Exactly what you need to score higher on the DAT. Kaplan's DAT 2016: strategies, practice and review combines Kaplan's expertise and score-raising tactics with the test-like practice you need to score higher, get the results you want, and jump-start your dentistry career.
Score-raising strategies and tactics: learn Kaplan's methods for every DAT question type to increase your test-taking efficiency and improve your performance" Taken from back cover
Dental materials: foundations and applications, 11th edition / by J.M. Powers and J.C. Wataha
Stacks RK652.5 .P69 2017Y
"Master essential knowledge and skills with this cutting-edge classic text on dental materials! Gain an in-depth understanding of the dental materials and tasks that dental professionals encounter every day with Dental materials: foundations and applications, 11th edition. Trusted for nearly 40 years, Powers and Wataha's text walks readers through the nature, categories, and utility of clinical and laboratory dental materials in use today. Increased coverage of foundational basics and clinical applications and an expanded art program help make complex content easier to grasp. If you're looking to effectively stay on top of the rapidly developing field of dental materials, look no further than this proven text.
Comprehensive and cutting-edge content describes the latest materials commonly used in dental practice, including those in esthetics, ceramics, dental implants, and impressions.
Expert authors are well recognized in the fields of dental materials, oral biomaterials, and restorative dentistry.
More than 575 illustrations and photographs make it easier to understand properties and differences in both materials and specific types of products.
A logical and consistent format sets up a solid foundation in materials basics before progressing into discussions of specific materials - from common and simple applications with composites to more specialized uses with polymers and dental implants.
Review questions provide an excellent study tool for classroom or board exams, with 20 to 30 self-test questions in each chapter.
Quick Review boxes summarizes the material in each chapter.
Alert boxes highlight key points, applications, and important terminology throughout the text.
Key terms are bolded at their initial mention in the text and defined in the glossary." Taken from back cover
"Richly illustrated in full colour throughout, this beautiful volume guides readers through the key issues of Smile Design and includes a detailed discussion of assessment techniques including aesthetic check lists and photography, the use of smile design trial and diagnostic techniques and assessment tools. Procedures include space management, alignment procedures and the use of ceramic veneers. Throughout the book, emphasis is given to assessment of the patient and precision treatment modalities. Additional features include:
Clearly written chapters, many containing real-life clinical cases

Offers a highly visual, practical approach in a unique series format

Designed to strengthen, enhance and expand the scope of procedures available to the clinician" Taken from back cover
"This innovative new book provides a user-friendly guide to securing a successful, varied and fulfilling career in dentistry. Including case study examples of real-life professional trajectories, How to develop your career in dentistry showcases the opportunities inherent in a range of dental professions and what is required to take advantage of them." Taken from back cover
The Alexander discipline: unusual and difficult cases, volume 3 / by R.G. Alexander
Quintessence Publishing Co, Inc., 2016
Stacks RK521 .A439 2008X v.3
"The purpose of this book is to demonstrate how certain changes should be made from the "routine" system to adapt to the individual "unusual" case. These changes can include unusual extraction patterns, bracket angulations, treatment timing, and substitution of selected teeth. The most exciting thing about this book is that it demonstrates how "adaptable" the dentoalveolar hard and soft tissues can be under certain conditions [...] Hopefully this book can give the reader a new perspective in regard to the treatment of certain malocclusions and the potential stability possible for each." Take from Preface, vii
Color atlas of dental medicine: orthodontic diagnosis / by T. Rakosi, I. Jonas, and T.M. Graber
Thieme Medical Publishers Inc., 1993
Stacks RK522 .R34313 1993
"This volume is a handy, illustrated manual covering orthodontic diagnostic techniques. Modern orthodontics includes a series of different types of treatment requiring precise diagnostic techniques in order to produce a positive outcome. This atlas includes the examination methods required for everyday treatment. Apart from the conventional examination methods, i.e., clinical and radiographic examinations and cast analysis, three aspects which are often neglected are describes in detail:
Growth of the facial skeleton. Types of treatment which promote or guide growth are often employed as a part of orthodontic therapy - assuming that there is still a potential for growth - with the intention of harmonizing the various components of the facial skeleton. In order to control these natural processes artificially, a precise understanding of them is required
Etiology of the malocclusion. Causative therapy is always desirable and promising. The various types of causative therapy and the elimination of the causes depend on the etiologic assessment.
Functional analysis. Analysis of function is a part of the clinical examination. If one considers that on the one hand many malocclusions are a result of dysfunctions and, on the other hand, a variety of methods are available for treating dysfunctions, functional analysis must be taken seriously.
This color atlas should enable the operator to assess the malocclusion and simplifies selection of the method of treatment for individual cases. It provides an overview and serves as a reference book for use in daily practice." Taken from Preface, viii
The science and art of occlusion and oral rehabilitation / by M. Gross
Quintessence Publishing Co. Ltd., 2015
Oversize RK523 .G76 2015Y
"This book fulfills the need for an up-to-date extensive evidence-based text encompassing didactic and clinical fields relevant to occlusion and oral rehabilitation that reflects changing paradigms, concepts, new clinical disciplines and expanding therapeutic options...The first section of the text covers evolution of the masticatory system, growth and development, neuromuscular physiology, orofacial pain, neuroplasticity and biopshychosocial concepts of pain and TMD...The second section addresses fundamentals of occlusion; functional anatomy of muscles, TMJs, mandibular dynamics, the class I occlusion and fundamentals of esthetics...The third clinical section starts with chapters on occlusion in implant dentistry and dental articulation." Taken from back cover
Physicians desk reference: PDR, 70th edition / by PDR
PDR, LLC., 2015
Stacks RS75 .P52 2016
"Now in its 70th year, PDR remains committed to ensuring that prescribers have access to drug labeling, safety, and other clinically relevant information at the point-of-prescribing...The PDR's mission is to deliver actionable health information that matters. By improving the communication of important medication information and FDA-approved drug alerts, PDR's unique services enhance patient safety and may help to reduce prescribers' medical liability." Taken from forward
ITI treatment guide: biological and hardware complications in implant dentistry, volume 8 / by U. Bragger and L.J.A. Heitz-Mayfield
Quintessence Publishing Co. Ltd., 2015
Stacks RK667 .I45 B73 2015Y
"Volume 8 of the ITI Treatment Guide provides clinicians with the latest evidence-based information on the origins and treatment of biological as well as hardware complications. This analysis of the current evidence is based in part on the proceedings of the 4th ITI Consensus Conference held in Bern in 2013, as well as on a review of the current literature. Sixteen step-by-step clinical cases presented by experienced clinicians from all over the world illustrate the diagnosis and treatment of complications." Taken from back cover
Dental implant complications: etiology, prevention, and treatment, 2nd edition / edited by S.J. Froum
John Wiley and Sons Inc., 2016
Stacks RK667 .I45 D457 2016Y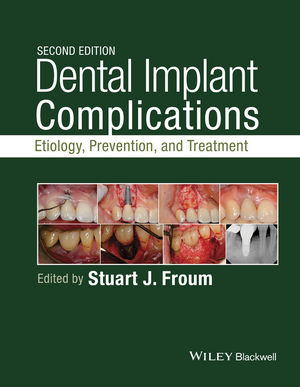 "
Dental implant complications: etiology, prevention, and treatment, second edition
, is organized sequentially, guiding the reader through complications associated with the diagnosis, treatment planning, placement, restoration, and maintenance of implants at any stage. Complications associated with various bone augmentation and sinus lift procedures are also discussed in detail with emphasis on their etiology and prevention. Each chapter utilizes a highly illustrated and user-friendly format to showcase key pedagogical features, including a list of "take home tips" summarizing the fundamental points of each chapter. New chapters include discussions of complications from drug prescribing, implant naturalization, cemented restorations, loose implant restoration syndrome, and craniofacial growth. Readers will also find more case presentations to see how complications have been managed in real-world situations."
Taken from back cover
Also available online
Aligner orthodontics: diagnostics, biomechanics, planning and treatment / by W. Schupp and J. Haubrich
Quintessence Publishing Co. Ltd., 2016
Stacks RK527 .S38 2016Y
"This book presents useful tips and strategies on how to integrate the Invisalign system successfully into clinical practice. The authors review the diagnostic protocols and the biomechanics of aligners before presenting Invisalign treatment protocols. With the support of accompanying case documentation, discussion of each malocclusion includes information on the associated symptoms, the rationale behind the selected treatment approaches, and the various outcomes achieved. The last section of this book deals with the advantages of the Invisalign system and can help patients and clinicians in deciding whether this system can provide optimal treatment outcomes for a particular clinical situation. This is a practical manual for any clinician interested in the novel treatment modality of aligner orthodontics." Taken from back cover
Oral health literacy: workshop summary / by the Institute of Medicine
The National Academies Press, 2013
Stacks RK60.7 .W669 2011
"The Institute of Medicine (IOM) Roundtable on Health Literacy focuses on bringing together leaders from the federal government, foundations, health plans, associations, and private companies to address challenges facing health literacy practice and research and to identify approaches to promote health literacy in both the public and private sectors. The roundtable serves to educate the public, press, and policy makers regarding the issues of health literacy, sponsoring workshops to discuss approaches to resolve health literacy challenges...The workshop on oral health literacy was moderated by Roundtable chair, George Isham, and featured presentations from invited speakers. These presentations make up the chapters that follow. Each topic (chapter) includes one or more presentations that are followed by a group discussion led by Roundtable members." Taken from Introduction, 1-2
Also available online
Theses
Characterizing the molecular mechanisms involved in the formation of multidrug-tolerant persister cells in Streptococcus mutans / Vincent Leung
Thesis (Ph.D.)--University of Toronto, 2015
Quantitative trait loci and ca

ndidate genes for neutrophil recruitment in sterile inflammation mapped in AXB-BXA recombinant inbred mice / by Quyen Su Cheng
Thesis (M.Sc.)--University of Toronto, 2015
R740S mutation of Tcirg1 affects enamel development in osteopetrotic mice / by Lisa Elaine Johnson
Thesis (M.Sc.)—University of Toronto, 2016
Thesis (M.Sc.)—University of Toronto, 2015
Thesis (Ph.D.)—University of Toronto, 2016
Thesis (M.Sc.)—University of Toronto, 2015
Thesis (M.Sc.)—University of Toronto, 2015
Thesis (M.Sc.)—University of Toronto, 2015
Thesis (M.Sc.)—University of Toronto, 2016
CD-ROMS
Textbook of endodontics, 3rd edition / by N. Garg and A. Garg
Jaypee Brothers Medical Publishers, 2014