eBooks
Check out all the new 2016 ScienceDirect eBook titles!
Did you know that the following course reserve titles are also available online as eBooks?
Clinical epidemiology : the essentials, 5th edition / by R.H. Fletcher, S.W. Fletcher, and G.S. Fletcher
Wolters Kluwer/Lippincott Williams & Wilkins Health, 2014
This book "is a comprehensive, concise, and clinically oriented introduction to the subject of epidemiology. Written by expert educators, this text introduces students to the principles of evidence-based medicine that will help them develop and apply methods of clinical observation to form accurate conclusions [...] Other features and highlights include:
Revised, four-color art program aids visual learners

"Key Words" lists start each chapter and tip the reader to the important concepts that must be mastered for efficient studying

End-of-chapter review questions with answers help students test their understanding and mastery of the material

"Example" feature helps clarify important concepts by discussing real-world studies taken directly from clinical literature" Taken from back cover
Used in: DEN207Y1; DPP111H1
Clinical periodontology and implant dentistry, 6th edition / by N.P. Lang and J. Lindhe
Wiley-Blackwell, 2015
"The new sixth edition of this textbook incorporates the important topic of the strictly prosthetic aspects of treating mutilated dentition. An essential part of comprehensive therapy treatment is treatment planning according to biological principles, to which special attention has been given. The installation of oral implants and their healing are covered in detail, and novel concepts of tissue integration are also addressed. Last, but not least, clinical experience from latter years has revealed that biological complications occur with oral implants. The sixth edition gives special attention to coping with such adverse events and also to issues related to the maintenance of periodontal and peri-implant health. All in all, the sixth edition represents a thoroughly revised syllabus of contemporary periodontology and implant dentistry." Taken from Preface, xxv
Used in: DEN211Y1; DEN324Y1/DEN371Y1; DEN471Y1
Contemporary oral and maxillofacial pathology, 2nd edition / by J.P. Sapp, L.R. Eversole, and G.P. Wysocki
Mosby, 2004
"This vibrant, full-color text provides the practical and up-to-date information readers need to understand and diagnose oral injuries and diseases. Organized in a consistent and logical format, it includes the latest discussions on oral pathology, as well as key content on neoplasia, immune-mediated disorders, developmental disorders, and oral manifestations of systemic conditions. Providing thorough discussions of the most common disorders, each chapter also includes a list of the recent review articles and classic publications that are related to the chapter's content. More than 900 photos and illustrations of the oral and maxillofacial region are included, and many photomicrographs are accompanied by simple color line drawings to aid in the detection of disease and abnormal cells." Provided by online publisher
Used in: DEN315Y1
Craig's restorative dental materials, 13th edition / edited by R.L. Sakaguchi and J.M. Powers
Elsevier/Mosby, 2012
"Master the use of dental materials in the clinic and dental laboratory and stay current with this ever-changing field with Craig's Restorative Dental Materials, 13th Edition. From fundamental concepts to advanced skills, this comprehensive text details everything you need to know to understand the scientific basis for selecting dental materials when designing and fabricating restorations. This practical, clinically relevant approach to the selection and use of dental materials challenges you to retain and apply your knowledge to realistic clinical scenarios, giving you an authoritative advantage in dental practice." Provided by online publisher
Used in: DEN130H1/DEN180H1
Dental secrets, 4th edition / edited by S.T. Sonis
Elsevier, 2015
"Offering practical tips and expert answers to topics in dentistry and oral medicine, Dental Secrets, 4th Edition provides an ideal preparation tool for exams, clinical rotations, and board certification. A concise, illustrated Q&A format covers key areas such as oral pathology and radiology, periodontology, endodontics, restorative dentistry, prosthodontics, orthodontics, infection control, and oral and maxillofacial surgery. Written by Stephen Sonis and a team of expert contributors, this mini-reference makes it easier to prepare for real-world clinical scenarios and review for the NBDE and other certification exams." Provided by online publisher
McCracken's removable partial prosthodontics, 12th edition / by W.L. McCracken
Elsevier/Mosby, 2011
"The leading prosthodontics resource for more than 40 years, McCracken's Removable Partial Prosthodontics provides the information you need to successfully manage the replacement of missing teeth. It covers the basic principles of treatment planning and design, and discusses the newest techniques, procedures, and equipment. Well-known educators Alan B. Carr, DMD, MS, and David T. Brown, DDS, MS use an evidence-based approach that helps you diagnose, design, develop, and sequence a treatment plan. A new chapter in this edition explains how to select and use implants to improve prosthesis performance. From initial contact with the patient to post-treatment care, from basic concepts to advanced material, this full-color text provides a complete foundation in prosthodontic care." Provided by online publisher
Used in: DEN277Y1; DEN333Y1/DEN377Y1; DEN477Y1
Medical emergencies in the dental office, 7th edition / by S.F. Malamed
Elsevier/Mosby, 2015
"Be prepared to handle life-threatening dental emergencies! Medical Emergencies in the Dental Office, 7th Edition helps you learn the skills needed to manage medical emergencies in the dental office or clinic. It describes how to recognize and manage medical emergencies promptly and proactively, and details the resources that must be on hand to deal effectively with these situations. This edition includes new guidelines for drug-related emergencies, cardiac arrest, and more. Written by respected educator Dr. Stanley Malamed, this expert resource provides dental professionals with the tools for implementing a basic action plan for managing medical emergencies." Provided by online publisher
Used in: DEN301Y1; DEN400H1
Oral microbiology and immunology, 2nd edition / edited by R.J. Lamont
ASM Press, 2014
"In the second edition of the bestselling textbook [...], an international panel of editors presents an in-depth, comprehensive understanding of the oral ecosystem and its role in human health and disease. Written specifically for dental students, dental practitioners, and healthcare professionals, Oral Microbiology and Immunology cohesively details the ecology, virulence, molecular biology, and immunogenicity of oral bacteria, viruses, and fungi and examines their interfaces with host cells and secretions. This updated and expanded edition includes:
recent advances in the oral microbiome

emerging concepts of caries and periodontal diseases as community infections

developments in molecular pathogenicity along with innate and adaptive immune responses to oral organisms
Oral infections continue to pose a major public health challenge. The information in this book will provide dental practitioners and clinical scientists with the scientific foundation that underlies both oral health and oral disease and that can provide a basis for future health improvements." Taken from back cover
Oral surgery / edited by F.D. Fragiskos
Springer, 2007
Also available via this link and this link
"This book covers a wide range of topics in oral surgery with detailed, step-by-step analysis of surgical techniques, with many examples. Various aspects of surgical techniques are analyzed. These include the instruments and materials used in oral surgery, types of flaps and suturing techniques, radiographic techniques, complications and treatment, and odontogenic infections. Also covered is the latest scientific information concerning preventive and therapeutic use of antibiotics in dentistry. The abundant photographic material, together with figures which are of excellent quality, make this book a must in every dental library." Taken from UTL catalogue record
Rang and Dale's pharmacology, 8th edition / by H.P. Rang, J.M. Ritter, R.J. Flower, and G. Henderson
Elsevier Churchill Livingstone, 2016
"Get the essential pharmacology information you need from one authoritative source with an outstanding global reputation for excellence.

Progress confidently through all relevant aspects of pharmacology, beginning with a molecular understanding of receptors and drug actions through clinical uses of key groups of drugs.

Find important content quickly thanks to a colour-coded layout that enable easy navigation and cross-referencing.

Master difficult concepts with Key Points boxes, Clinical Uses boxes, and full-colour illustrations throughout.

Stay up to date with new information in the field, including an all-new chapter on drugs that affect the skin.

Take advantage of new and unique features online, including chapter-specific multiple choice questions for immediate self-assessment."

Taken from back cover
Used in: DEN212Y1; DPP132H1;DEN1062H
Sedation : a guide to patient management, 5th edition / by S.F. Malamed
Elsevier/Mosby 2010
"Combining essential theory with "how-to" technical instruction, this concise guide is the leading reference for basic techniques in sedation and anxiety control in the dental office. The latest guidelines from the ADA and the American Society of Anesthesiologists keep you up-to-date with the latest medical standards. Content on patient management for pediatric, geriatric, physically compromised, and medically compromised patients helps you successfully treat any patient population." Provided by online publisher
Used in: DEN301Y1; DEN303H1/DEN453Y1
Treatment planning in dentistry / edited by S.J. Stefanac, S.P. Nesbit
Elsevier/Mosby, 2007
"This book provides essential knowledge for creating treatment plans for adult dental patients. Treatment planning strategies are presented to help with balancing the ideal with the practical, with emphasis placed on the central role of the patient — whose needs should drive the treatment planning process. The focus is on planning of treatment, not on the comprehensive details of every treatment modality in dentistry." Provided by online publisher
Used in: DEN450Y1/DEN451Y1; DEN350Y1
The following popular titles are also available as eBooks:
Pediatric dentistry : infancy through adolescence, 5th edition / by P. S. Casamassimo et al.
Elsevier, 2013
"Now in full color, Pediatric Dentistry, Infancy Through Adolescence, 5th Edition, uses a unique age-specific organization to discuss all aspects of pediatric dentistry from infancy through adolescence. Each section covers the physical, cognitive, emotional and social changes that children experience, as well as the epidemiology of dental diseases at that age. Other chapters explore the examination, treatment planning, radiographic concerns, prevention, trauma, restorative dentistry, pulp therapy, orthodontics, and behavior management of each age range." Taken from back cover
Thank you to Dr. Mayhall for recommending:
Twin studies : research in genes, teeth and faces / by G. Townsend et al.
University of Adelaide Press, 2015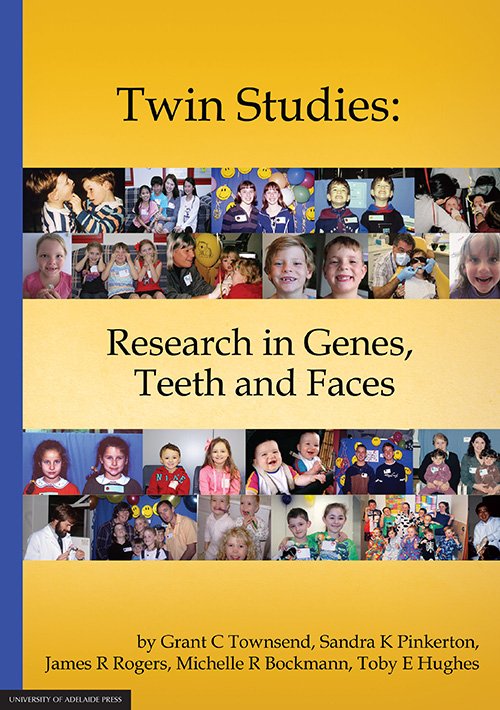 "This volume is about an ongoing long-term research initiative led by researchers from the School of Dentistry at the University of Adelaide. The aim of this book is to provide an overview of the studies of the teeth and faces of Australian twins and their families that have extended over more than thirty years.
Rather than providing detailed accounts of the methodologies and results of each of the individual research projects, the authors have provided general descriptions of the approaches that have been adopted and emphasised some of our key findings.
The book provides some historical perspectives of studies of twins, including those involving teeth and faces. It also gives an insight into the technological and scientific changes that have occurred over the past thirty years, including various twin models that enable exploration of genetic, epigenetic and environmental contributions to variation in teeth and faces. For this reason, it should also be of interest to students planning to undertake research involving twins as well as researchers and academics in the fields of dentistry and craniofacial biology." Provided by the online publisher
For more information, please see: http://www.adelaide.edu.au/press/titles/twin-studies/