Lambert Academic Publishing, 2019
RK51.5 K35 2019
"Musculoskeletal disorders (MSDs) are injuries or pain in the human musculoskeletal system, including the joints, ligaments, muscles, nerves, tendons, and structures that support limbs, neck and back. With the ever-increasing precision and complexity involved in dentistry along with an increase in patient expectation, procedures are taking a longer time. Over time muscle imbalances also can develop between the muscles that stabilize and those that move, and the stressed shortened muscle becomes ischemic and painful. the combination of these proliferative and infiltrative processes can lead to tissue changes over time. Awkward postures, forceful exertions, repetitive motions, duration, contact stresses, vibration and psychosocial factors are important risk factors for musculoskeletal disorders among dental professionals. This comprehensive review aims to provide a lead-in, definitions, basic structure of the musculoskeletal system, epidemiology and classification, mechanism of injury, signs and symptoms, diagnosis, risk factors, and management and prevention of work-related musculoskeletal disorders in the dental workplace."
From back cover
New ebooks:
Dental Care for Children with Special Needs: A Clinical Guide / e
dited by T. M. Nelson & J. R. Webb
Springer Nature Switzerland AG 2019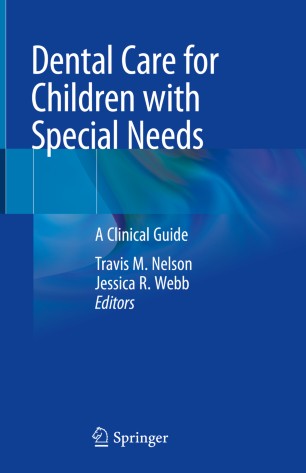 "This concise manual offers best practice guidance on dental treatment of pediatric patients with special health care needs (CSHCN). The straightforward approaches described will enable clinicians to deliver high-quality, patient-centered care to children with intellectual and developmental disabilities. Readers will find up-to-date information on case-based treatment planning, alternative caries management strategies, the use of behavioral and pharmacological interventions to facilitate delivery of quality treatment, and a team approach to care. Practical clinical tips are provided on how to achieve and maintain oral health, including good oral hygiene and nutrition. A systematic framework for patient assessment and interaction with medical colleagues will assist readers in understanding when dental protocols must be altered. Other important topics include techniques for effective communication with CSHCN, behavioral strategies to improve treatment acceptance, the role of occupational therapy techniques, the sensory adapted dental environment, and the use protective stabilization."
From publisher's website
Pediatric Restorative Dentistry / e
dited by S.C. Leal & E.M. Takeshita
Springer International Publishing AG, part of Springer Nature 2019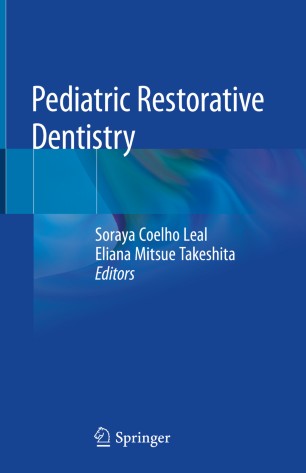 "This book describes and discusses the different restorative options for managing carious lesions in children with primary and mixed dentition. The aim is to provide practitioners with thorough, up-to-date information that will improve their clinical practice. The opening chapters present a comprehensive overview regarding diagnosis of carious lesions, risk assessment, child behavior and development, and behavioral management. The importance of oral health promotion and prevention in controlling lesion progression and maintaining oral health is reviewed. The impact of various factors on clinician decision making is then explained in detail, examples including the type of dentition (primary versus permanent), the clinical and radiographic aspect of the dentine carious lesion (noncavitated or cavitated), and whether the lesion is associated with a developmental defect. Guidance is provided on selection of nonoperative versus operative interventions, and the restorative materials most frequently used in pediatric dentistry are fully described, highlighting their advantages and disadvantages. Readers will also find an informative series of cases, with explanation of the choices in terms of materials and approach."
From publisher's website
Oral Mucosal Immunity and Microbiome / edited by
G. N. Belibasakis, G. Hajishengallis, N. Bostanci & M. A. Curtis
Springer Nature Switzerland AG 2019
"The first International Conference on Oral Mucosal Immunity and Microbiome (OMIM) aimed to highlight cutting-edge basic and translational research from an oral immunological and microbiological perspective. Oral diseases with a microbial etiology are the most prevalent chronic diseases of humans. Whilst not life-threatening, they can significantly compromise quality of life, are associated with increased risk for certain systemic diseases, and pose heavy financial burdens to national health systems. Hence, periodontal and peri-implant diseases, dental caries, root canal infections and mucosal infections are significant global public health problems.
In this book global experts summarize and discuss the latest progress made in oral mucosal immunity and the oral microbiome. Target audience is basic and/or translational researchers with expertise in host immunity and microbiome research, and interest in oral health and disease. This volume provides a much needed quantum leap in the field, by joining forces to address gaps at the oral mucosal immunity-microbiome cross-talk."
From publisher's website
Office-Based Maxillofacial Surgical Procedures / edited by
E. M. Ferneini & M. T. Goupil
Springer Nature Switzerland AG 2019
"This book is a comprehensive, step-by-step guide to maxillofacial surgical procedures typically performed in an office setting. It comprises three sections, the first of which provides an overview of general and basic perioperative topics such as medical and facial assessment, laboratory indications, local anesthesia, and oral and parenteral sedation. In the second section, a wide range of dentoalveolar procedures are described in detail. The final section is devoted to maxillofacial cosmetic procedures. Here, readers will find stepwise guidance on scar revision, chemical peel, laser resurfacing, dermabrasion, use of neuromodulators and fillers, neck procedures, blepharoplasty, and hair transplant surgery. The book is written by acknowledged experts and is multi-institutional and multispecialty based. It will meet the needs of multiple surgical professionals, including oral and maxillofacial surgeons, plastic surgeons, otolaryngologists, cosmetic surgeons, dentists, and medical and dental students. Health care providers will also be able to use the book as a resource to expand their knowledge on common maxillofacial surgical procedures."
From publisher's website
Periodontal Root Coverage / by
K. Amine, W. El Kholti & J. Kissa
Springer Nature Switzerland AG 2019
"This book is an evidence-based guide to periodontal root coverage that provides up-to-date information on the etiology of gingival recession defects, prognostic factors relating to the defect, patient, or operator, and surgical techniques. Attention is drawn to critical elements in the execution of surgical procedures that can impact on outcomes. In order to ensure that the guidance reflects the highest level of evidence, the authors have undertaken an exhaustive literature search of the four main electronic databases (MEDLINE/PubMed, Cochrane Library, ScienceDirect, and EBSCOhost) for studies on root coverage, including randomized clinical trials, systematic reviews, meta-analyses, and network meta-analyses. The aim is to supply readers with a truly reliable source of knowledge that will help them to navigate this complex field, in which numerous surgical procedures have been described, with great variability in clinical and statistical outcomes. The book will be of value to all who wish to improve their understanding of gingival recession defects and the techniques to achieve root coverage that offer the best long-term results."
From publisher's website
Springer Nature Switzerland AG 2020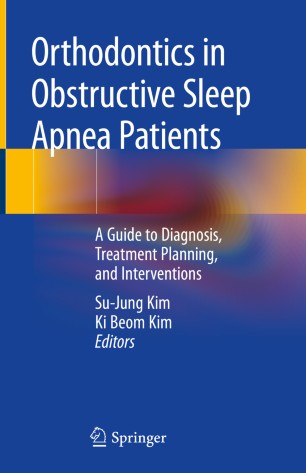 "This well-illustrated book is an up-to-date guide to orthodontic diagnosis, treatment planning, and treatment delivery in patients with obstructive sleep apnea (OSA). The aim is to present the latest knowledge on the important contribution that orthodontic modalities can now make in the management of a disorder that has generally been the preserve of sleep doctors. This book comprises three parts of general understanding of OSA and medical approaches, orthodontic diagnostic process, and orthodontic treatment application. In particular, the treatment parts are subdivided into six chapters depending on the patient's phenotype and age groups. The readers will come to realize how many modalities are available beyond the previously well-known options, and how important orthodontic contributions are for the treatment of OSA patients. The book will be an excellent resource providing well-organized diagnostic and therapeutic protocols from orthodontic point of view and will also be of value to other practitioners with an interest in OSA." From publisher's website
Springer Nature Switzerland AG 2020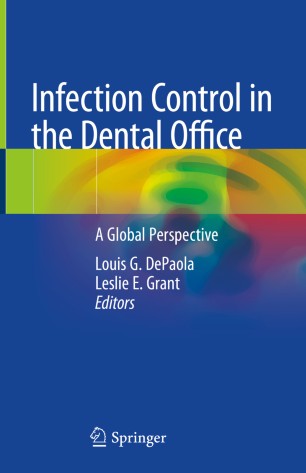 "This book reviews the principles of infection control and the guidelines and standards of care in multiple countries, discussing them within the context of the practice of dentistry. The aim is to enable dental practitioners to ensure that the appropriate measures are adopted for each patient contact, thereby minimizing the risk of transmission of infection – a goal that is becoming ever more important given the threats posed by new or re-emerging infectious diseases and drug-resistant infections. Readers will find information and guidance on all aspects of infection control within the dental office: hand and respiratory hygiene, use of personal protective equipment, safe handling of sharps and safe injection practices, management of occupational exposures, maintenance of dental unit water quality, surface disinfection, and the cleaning and sterilization of dental instruments. Infection Control in the Dental Office will be an invaluable asset for all dental practitioners, including dentists, dental specialists, dental hygienists, and dental assistants." From publisher's website
Springer Nature Switzerland AG 2020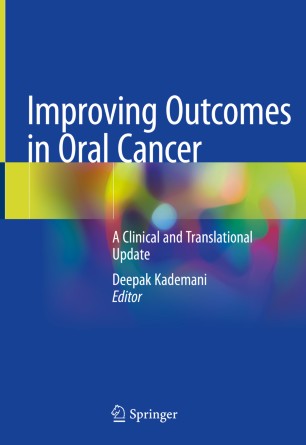 "This book brings together experts in the field of maxillofacial and head and neck oncology to provide a comprehensive clinical and translational update on oral cancer that focuses especially on prognosis. Readers will find up-to-date information on disease staging and the pathological, genetic, and surgical factors that affect patient outcomes. Individual chapters describe the most recent advances in radiotherapy, chemotherapy, and immunotherapy, again with careful analysis of the treatment-related factors relevant to response and survival. Management of premalignant lesions and risk factors for malignant transformation are discussed, and the latest knowledge on chemoprevention is presented. Further topics to be addressed include reconstruction of oral cancer defects, salvage options in the event of recurrence, and the prediction of quality of life following treatment. The book will be of value to all clinicians who care for patients with oral cancer in their everyday practice." From publisher's website
Springer Nature Switzerland AG 2020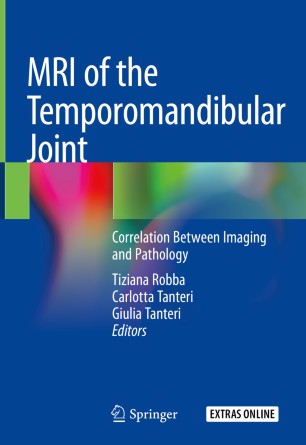 "This book is the outcome of a fruitful, long-standing cooperation between expert radiologists and clinicians, and explains the most relevant features and technical requirements that are needed to optimally conduct and assess MR examinations for temporomandibular joint (TMJ) pathologies. TMJ conditions are increasingly gaining attention, as the underlying diseases involved can vary considerably and be difficult to diagnose. Similarly, several imaging sub-specialties (e.g. dental radiology, neuroradiology, and musculoskeletal radiology) now find themselves dealing with the temporomandibular joints.
The authors provide essential information on TMJ anatomy, dynamics, function and dysfunction. Correlations between clinical aspects and MRI findings are discussed and guidance for the correct interpretation of results is offered. Special findings that are helpful for differential diagnosis (arthritis, osteochondroma, synovial chondromatosis) are also examined. Given its extensive and varied coverage, the book offers a valuable asset for radiologists, dentists, gnathologists, maxillofacial surgeons, orthodontists and other professionals seeking a thorough overview of the subject." From publisher's website