New books:
Dental Assistants and Hygienists: A Practical Career Guide / by Kezia Endsley
Rowman & Littlefield, 2019
RK60.5 .E53 2019X
"Welcome to careers in dental and oral health! If you are interested in a career in the dental health field, you've come to the right book. These are the professions traditionally called dental assistants and dental hygienists (also called oral hygienists). So what exactly do these people do on the job, day in and day out? What kind of skills and educational background do you need to succeed in these fields? How much money can you expect to make, and what are the pros and cons of these various fields? Do these career paths have a bright future? Is this even the right career path for you? How do you avoid burnout and deal with stress? Dental Assistants and Hygienists: A Practical Career Guide can help you answer these questions and more."
Applied Pharmacology for the Dental Hygienist, 8th Edition / by E. B. Haveles
Elsevier, 2020
RK701 .R46 2019Y
"Gain an in-depth understanding of the most commonly used drugs in dentistry! The most trusted and comprehensive book on pharmacology exclusively for dental hygienists introduces you to the principles needed for safe and effective dental treatment and oral health care. It discusses drug properties and mechanisms of action for each medication, as well as dosages, intended effects, interactions, and adverse reactions."
Foundations of Periodontics for the Dental Hygienist, Fifth Edition / by J. S. Gehrig, D. E. Shin & D. E. Willmann
Wolters Kluwer, 2019
RK361 .F675 2019Y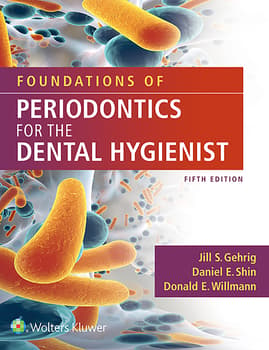 "Current, comprehensive, and rich with engaging learning features, Foundations of Periodontics for the Dental Hygienist, 5th Edition helps you master anatomy concepts, disease processes, and classifications to succeed in class and ensure a confident transition to clinical practice."
Darby and Walsh Dental Hygiene: Theory and Practice, Fifth Edition / by D. M. Bowen & J. A. Pieren
Elsevier, 2020
"Darby and Walsh Dental Hygiene: Theory and Practice, Fifth Edition, offers everything you need to succeed in your coursework, at certification, and in clinical practice. No other dental hygiene text incorporates the clinical skills, theory, and evidence-based practice in such an approachable way. All discussions - from foundational concepts to diagnosis to pain management - are presented within the context of a unique patient-centered model that takes the entire person into consideration."
Management of Temporomandibular Disorders and Occlusion / by J. P. Okeson
Elsevier, 2020
RK523 .O483 2020Y
"The study of occlusion and its relationship to function of the masticatory system has been a topic of interest in dentistry for many years. This relationship has proved to be quite complex. Tremendous interest in this area accompanied by lack of complete knowledge has stimulated numerous concepts, theories, and treatment methods. This, of course, has led to much confusion in an already complicated field of study. Although the level of knowledge today is greater than ever before, there is still much to learn. Some of today's techniques will prove to be our most effective treatments in the future. Other methods will be demonstrated as ineffective and will have to be discarded. Competent and caring practitioners must establish their treatment methods based on both their present knowledge and their constant evaluation of information received from the massive amount of ongoing research. This is an enormous task. It is my hope that this text will assist students, teachers, and practitioners in making these important treatment decisions for their patients."
Implant Dentistry at a Glance, Second Edition / by J. Malet, F. Mora & P. Bouchard
John Wiley & Sons, 2018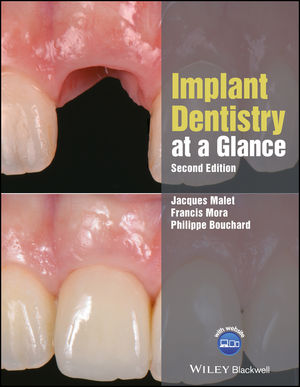 "Since the publication of the first edition, great strides have been made in both the clinical and basic research of implant dentistry. Following the popular, easy-to-use At a Glance format, each topic presented includes a newly designed layout that features a double-page spread with facts accompanied by descriptive diagrams and clinical photographs that capture the critical information. In addition, the second edition has been expanded to offer 13 new chapters and explores the recent developments in digital implant dentistry. The text also covers quality of life considerations, including the cost-benefit analysis and cost effectiveness, and reviews new advances on the esthetic improvements and the time reduction of procedures."
New ebooks:
Craniomandibular Dysfunction in Violinists: A Literature Review / by R. Abdunnur
Springer Fachmedien Wiesbaden GmbH, part of Springer Nature, 2019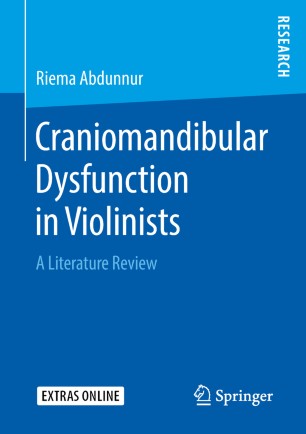 "Riema Abdunnur gives insight into publications focusing on performing violinists, particularly on those suffering from CMD, subsequently providing a better understanding to the unique work conditions of violinists, and enhancing diagnosis and therapeutic results by practitioner dentists. Moreover, the analysis of the included papers aims to reveal what exactly was studied in violinists regarding to CMD, and how far manual medicine was included there. The conclusion of the author is, playing violin could be classified as a potential factor associated with CMD in violinists. More researches that take the interdisciplinary collaboration between dental and manual medicine into special account are recommended."
Surgery-First Orthodontic Management: A Clinical Guide to a New Treatment Approach / by C. K. Chng et al.
Springer Nature Switzerland AG, 2019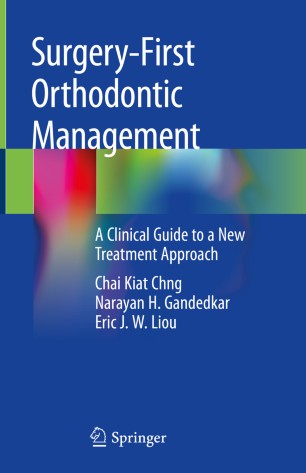 "This book is a comprehensive guide to the surgery-first orthognathic approach (SFOA), which overcomes the problem of the very prolonged treatment period associated with conventional orthognathic surgery by avoiding the presurgical phase. The shorter duration of the treatment is due to a phenomenon triggered by the surgery, termed the regional acceleratory phenomenon, whereby higher osteoclastic activity and metabolic changes at the dentoalveolar level accelerate postoperative orthodontic tooth movement. In this book, readers will find in-depth discussion of integration of the basic biological principles of SFOA with sound biomechanical doctrines. The authors' own treatment protocol for surgical and orthodontic management is fully explained. Diagnosis and treatment plans are presented for various skeletal maxillofacial deformities, and key considerations in pre- and postsurgical patient care are highlighted. Detailed attention is given to complication management and to the impact of recent advances such as 3D image integration, virtual surgical planning, and rapid prototyping of surgical wafers. This richly illustrated book will be an ideal resource and quick reference guide for orthodontists at all levels of experience."
Basal Implantology / edited by G. M. Scortecci
Springer Nature Switzerland AG, 2019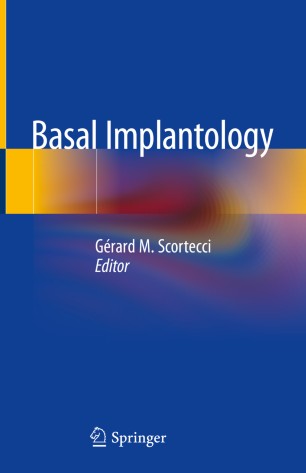 "This manual will help oral implantologists to understand the principles that underlie the use of basal implants as a means to provide simple solutions to complex and highly demanding clinical situations without the need for prior bone grafting. It will also serve as a richly illustrated practical guide to application of the technique. The book is in three parts, the first of which discusses basic principles and related themes, including osteogenesis, osseointegration, cortical anchorage stability, biomechanics, surgical techniques, and basal implant prosthodontics. Step-by-step guidance is then offered on the application of these principles, focusing on operating techniques, 3D treatment planning, transitional and final screw-secured prostheses, and postoperative follow-up. The third part of the book addresses a wide range of clinical situations that can be treated by basal implantology, with particular attention to the treatment of high, thin alveolar ridges and the atrophic maxilla and mandible and to the correction of previous implant failures. Potential complications and postimplantation neuropathies are also discussed, with guidance on their management."
Oral Medicine in Primary Dental Care / by M. A.O. Lewis & P.J. Lamey
Springer Nature Switzerland AG, 2019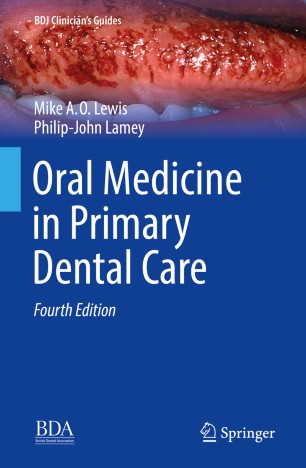 "This book is an up-to-date guide to the diagnosis and management of the oral and orofacial conditions that may be encountered by dentists in primary care. Now in its fourth edition, the book has been completely restructured to provide a clinical signs and symptoms approach to disease that will enhance the ability of clinicians to establish the correct diagnosis. This is achieved by the lavish use of high-quality colour clinical illustrations that cover the full spectrum of conditions seen most frequently in the dental surgery. In addition, contemporary information on patient management is presented in a clear and reader-friendly style. The book provides the clinician with an extremely useful tool for clinical diagnosis and delivery of the highest quality patient care. The contents are of direct relevance to all members of the dental team, not only in general practice but also in specialist settings."
Contemporary Dental Pharmacology: Evidence-Based Considerations / edited by A. H. Jeske
Springer Nature Switzerland AG, 2019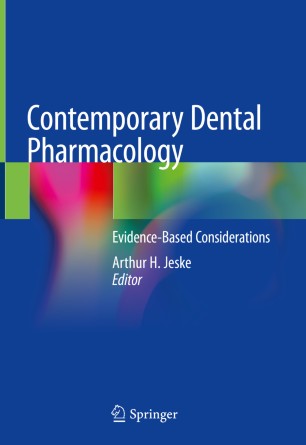 "This book on current approaches to the use of drugs in dentistry aims to equip practitioners with a sound understanding of both the scientific evidence for various interventions and the comparative efficacy of those interventions. The focus is on the drugs most commonly used in conjunction with dental treatment, including local anesthetics, analgesics, antibiotics, sedatives, and drugs for the management of medical emergencies. Summaries of the scientific evidence from the available published literature are provided, with assessment of the level and quality of the evidence base. A unique aspect of the book is its focus on current, evidence-based recommendations from professional organizations with regard to special topics, such as antibiotic prophylaxis, pediatric considerations, and management of medically compromised patients. Emphasis is placed on evidence from randomized controlled trials, systematic reviews and meta-analyses, and in order to further enhance the up-to-date nature of the book, each chapter includes guidance on online resources, such as useful non-commercial websites."