Books
Sociology and psychology for the dental team : an introduction to key topics / by S. Scrambler, K. Asimakopoulou, and S. Scott
Polity, 2016
Stacks RK53 .

S33 2016X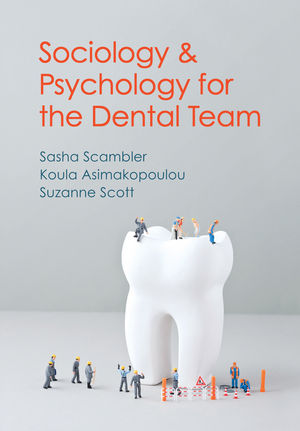 "The role that the social and behavioural sciences play in the daily practice of dentistry is now an essential part of all dentistry training, but it can often seem distant from the reality of daily clinical practice. Dentists often ask: what is sociology? Why do I need to know about psychology? Why do I need sociology and psychology to be an effective dentist? How can they help improve my clinical practice?
This new textbook answers these important questions and shows how the social and behavioural sciences can inform the practice of dentistry and allied healthcare services in the twenty-first century. It provides a comprehensive, accessible introduction to sociology and psychology for students and members of the dental team with no prior knowledge of the subject, and although the book assumes little or no previous knowledge of psychology or sociology, it also provides enough depth to meet the needs of those with some background in these fields. Throughout, the links between sociology and psychology and everyday practice are emphasized and explained and theoretical concepts are put into the context of everyday clinical work.
The authors have extensive experience in teaching and researching the social and be
havioural sciences from undergraduate to post-doctoral levels. This book will be an indispensable teaching aid within dental health education, and other allied health and social care disciplines." Taken from back cover
Endodontics review : a study guide / by B. Blicher, R. Lucier Pryles, and J. Lin
Quintessence Publishing Co, Inc, 2016
"This comprehensive study guide provides a framework for reviewing the core material covered by the board examinations and helps readers understand how to prepare for them. With a focus toward clinical applications, the key topics of endodontics are covered in full, and the complex subjects of trauma and resorption are addressed in separate chapters with diagnosis and treatment protocols particular to these entities. To underscore the format of the oral examination, the authors have divided each chapter into the sections used in the examination—basic sciences, medicine, diagnosis, treatment protocols, prognosis, and complications. In addition, this book provides a comprehensive review of the scientific literature. Frequent references to peer-reviewed journal articles and endodontics textbooks also guide readers for further study and focus."
Taken from publisher webs
ite
General and oral pathology for dental hygiene practice / by S. L. Myers and A. E. Curran
F.A. Davis Company, 2015
Stacks RK60.7 .M94 2015X
"Develop the foundation in pathology you need to recognize the signs and symptoms of the oral conditions and the manifestations of systemic diseases you'll encounter in clinical practice. Step by step, you'll learn about the etiology of each disease or condition, how to recognize it, what the diagnostic process is, how the disease progresses, and what the treatment options are. Concise text and full-color photographs, complemented by animations of pathological processes online at DavisPlus, show you exactly what you need to know. Interactive case studies and critical-thinking exercises prepare you to make the correct patient care decisions." Taken from publisher website
Drug information handbook for dentistry : including oral medicine for medically compromised patients & specific oral conditions, 21st edition / edited by R. L. Wynn, T. F. Meilller, and H. L. Crossley
Lexicomp, 2015
Stacks RK701 .W87 2015
"The Lexicomp Drug Information Handbook for Dentistry has been helping dental professionals enhance patient care for over 20 years! Information is presented in an easy-to-use, two-column format, with medications alphabetically indexed by brand and generic names as well as by index terms. Within individual drug monographs, dental-specific fields are highlighted in red, a timesaving feature within an information-rich resource. Drug content is complemented by special sections dedicated to medically compromised patients, specific oral conditions, and sample prescriptions. Includes: 1691 Drug Monographs; Up to 41 Fields of Information per Monograph; 200 Natural Products - Adapted from Facts & Comparisons The Review of Natural Products; 104 Sample Prescriptions; More Than 150 Pages of Special Topics and Appendix Information. Updates to this Edition: 68 New Drug Monographs; Updated Oral Medicine Topics: Antibiotic Prophylaxis, Dentin Hypersensitivity, Acid Erosion, High Caries Index, Management of Alveolar Osteitis, and Xerostomia; HIV Infection and AIDS; Management of the Chemically Dependent Patient; Oral Pain; Osteonecrosis of the Jaw; Periodontal Diseases; Respiratory Diseases." Taken from publisher website
Biomaterials for oral and craniomaxillofacial applications / edited by S. Deb
Karger, 2015
Stacks RK652.5 .B56 2015Y
Also available online
"The majority of the global population is affected by repair or replacement of craniofacial structures caused by tooth decay or loss as well as major craniofacial defects, necessitating complex tissue augmentation or regeneration procedures.
As a result of exciting developments and the increasing number of novel biomaterials and different clinical applications, it is extremely important to understand these biomaterials and their design. This publication integrates the application of biomaterials science and describes the recent advances, the role of cutting-edge biomaterials in engineering oral tissues, surface modification technologies, the emerging field of nanomaterials and clinical translation showing future directions in oral and craniomaxillofacial health care.
Researchers active in dental, medical and biomaterials sciences, oral and maxillofacial surgeons, dentists, tissue engineers as well as materials scientists will find valuable information on the latest progress and novel approaches as will all those who are looking for better solutions to the problems associated with facial deformities." Taken from publisher website
Ceramics in dentistry : principles and practice / by J. R. Kelly
Quintessence Publishing Co, Inc, 2016
"The use of ceramics in dentistry holds enormous potential for restoring dentitions, but ceramics can be difficult to master because of the common problems of chipping and fracture. This book unlocks the mystery behind successful use of dental ceramics and lays bare the science behind this high technology. The author shows how and why fracture occurs and explains why choosing the right material, design and processing method are vital to the success of any ceramic restoration and why certain ceramic systems are most suitable for certain clinical situations. The author also details how to achieve esthetic excellence without compromising strength. The book concludes with a chapter on the use of ceramics in implant dentistry and how CAD/CAM technology can be used to revolutionize this field. Thumbnails featured throughout point to extra online content." Taken from publisher website
Principles of design and fabrication in prosthodontics / by A. Hohmann and W. Hielscher
Quintessence Publishing Co, Inc, 2016
"Written for the dental technician, this comprehensive textbook describes the philosophy behind prosthodontic design and systematically details all of the working steps in designing and fabricating restorations and dentures. Unlike other prosthodontic texts, this one is written from a design perspective first and foremost, explaining the rationale behind the most minute of design considerations, such as different extension arms in removable partial denture clasps. Entire chapters are devoted to supporting elements of restorations, such as attachments, anchors, and clasps, and the statics of partial dentures, underscoring the book's emphasis on stability during function and how to make wise design choices to achieve it. The book does not stop at design, however, it includes comprehensive instructions on fabrication as well, clearly delineating the responsibilities of the dental technician and the dentists. A chapter on complete dentures includes multiple working methods and philosophies from prosthodontic pioneers, and the final chapter describes how to incorporate sound prosthodontics design into implant therapy. This book will surely change the way dental technicians approach prosthodontic design."
Taken from publisher website
Oral soft tissue diseases: a reference manual for diagnosis and management, 6th edition / by J.R. Newland, T.F. Meiller, R.L. Wynn, and H.L. Crossley
Lexicomp, Inc., 2013
Stacks RC815 .O73 2013Y
"This visually-cued manual is designed to support the diagnosis and management of oral soft tissue diseases. Lesions are organized by diagnostic category and arranged in convenient tabbed sections, providing a user-friendly format for busy dental practitioners. Lesions also are depicted with one or more color photographs that illustrate typical clinical features. Recommendations for patient management, sample prescriptions and monographs for drugs commonly used in treatment are included.
Features:
Over 100 lesions (including 23 new images):

dental abscess with cutaneous sinus

cellulitis

actinomycosis

cat scratch disease

infectious mononucleosis

epidemic mumps

sjogren's syndrome

parotid salivary gland neoplasms

lymph node metastases

lymphoma

odontogenic cysts and neoplasms

bone cancer (primary and metastatic)

Over 280 colour photographs

Sample prescription section

New section on swellings of the face and neck

Updated special topics section

"

Taken from back cover
Global diagnosis : a new vision of dental diagnosis and treatment planning / by J.W. Robbins and J.S. Rouse
Quintessence Publishing Co, Inc., 2016
Stacks RK501 .R63 2016X
The "global diagnosis system is based on five CORE questions:
What are the facial proportions and skeletal relationships?

What are the length and mobility of the upper lip?

What is the relationship between the gingival line and the horizon?

What is the length of the maxillary central incisor?

Is the CEJ palpable in the gingival sulcus?
This book outlines how to use these questions to determine a diagnosis and includes chapters on the treatment options available for various diagnoses, including crown lengthening, tissue grafting, intrusion, forced eruption, orthognathic surgery, facial plastics, and extrusion. Chapter 12 describes our CORE template, which is included on the attached CD, and how to use thirteen photographs to complete the template. This template can be used for presentations for dental study clubs as well as to keep track of pertinent information. In the final chapter, we invite readers to plan the treatment for five case studies based on the CORE questions and other diagnostic information." Taken from Preface, viii
Includes a CD-ROM
Pierre Fauchard, ce génie de l'épistémologie en art dentaire / by G. Gros
L'Harmattan, 2016
Stacks RK51.5 .G76 2016Y
"Based on the thorough and systematic analysis of the Treaty of teeth, the author proposes to follow the course of epistemological Fauchard, his method to study and find out the fertility of his thought. This course is characterized by an alliance of science and technology, by the resolute inclusion of dentistry in the medical landscape and thus its entry into modern times." Taken from publisher website
CD-ROMS
Global diagnosis : a new vision of dental diagnosis and treatment planning / by J.W. Robbins and J.S. Rouse
Quintessence Publishing Co, Inc., 2016