eBooks
Check out the new book co-edited by Dentistry faculty member Dr. Anil Kishen (which has not yet been added to the UTL catalogue):
The root canal biofilm / edited by L.E. Chavez de Paz, C.M. Sedgley, and A. Kishen
Springer Series on Biofilms
Volume 9, 2015
"This book presents the current state of research on the basic scientific aspects of root canal biofilm biology within a clinically applicable context. Root canal biofilms are complex polymicrobial structures adhering to the root canal surface that are formed by microorganisms invading the pulpal space of teeth, and are associated with persistent root canal infections. Concerted efforts to study root canal biofilms have been made in the past decade, resulting in the publication of observational and experimental studies that detail the morphology and biology of these structures in infected root canals. In addition to confirming that bacteria in root canals do not exist in free-floating planktonic states as previously assumed, this new information on root canal biofilm infections has provided an opportunity to re-evaluate conventional clinical protocols and improve endodontic therapeutic measures."
Check out new ScienceDirect eBooks that we gained access to in July, August, September, October and November 2015.
Books
Where there is no dentist / by M. Dickson, R. Bebermeyer and M. Hobdell
Hesperian Foundation, 2012
Stacks RK61 .D54 2012Y
"Community health workers, educators, and individuals from around the world use Where There is No Dentist to help people care for their teeth and gums. This book's broad focus makes it an invaluable resource. The author uses straightforward language and careful instructions to explain how to: examine patients, diagnose common dental problems, make and use dental equipment, use local anesthetics, place fillings, and remove teeth. This updated edition features new information on how HIV affects the care of teeth and gums, as well as updated information about medications, infection prevention, and safe waste disposal. This book is an important companion to Where There is No Doctor." Taken from back of book
Orthodontic pearls : a selection of practical tips and clinical expertise, 2nd edition / edited by E. Mizrahi
CRC Press, 2015
Stacks RK521 .O78 2015Y
"The administration and running of an orthodontic practice are not often taught extensively or formally in most schools. This books fills that gap by providing tips, techniques, and practical hints to assist in everything from diagnosis and the use of appliances to patient management and marketing. Much of the information in this book comes from experience as well as lectures, courses, and journals. This second edition has been revised and expanded to cover:
Digital advances in photography and radiology

Digital intraoral scanning

Lingual orthodontic treatments

Temporomandibular joint disturbances

Temporary anchorage devices

Impacted canines

Interdisciplinary treatment

Risk management

Marketing of the orthodontic practice

The expanded orthodontic team

Continuing education and its relevance to orthodontic practice" Taken from back cover
Stacks RK685 .L37 P75 2016Y
"Expand your skills in the rapidly growing field of laser dentistry! With vivid clinical photos and easy-to-follow writing, Dr. Robert A. Convissar and his team of dental experts walk you through everything you need to know about the latest laser procedures across all areas of dentistry. Coverage includes the most common uses of lasers in areas like: non-surgical, surgical, and regenerative periodontics, oral pathology, implantology, fixed and removable prosthetics, cosmetic procedures, endodontics, operative dentistry, pediatrics, orthodontics, and oral and maxillofacial surgery. Topics such as the history of lasers in dentistry, laser research, the latest laser equipment, and how to go about incorporating lasers into your practice are also incorporated, ensuring you are fully prepared to use lasers in practice.
NEW! Updated content on regenerative laser periodontal therapy, laser periodontal therapy, lasers in implant dentistry, lasers in restorative dentistry, low-level lasers in dentistry, and laser dentistry research
NEW! More clinical photos, equipment photos, and conceptual illustrations

The latest evidence-based, authoritative information, written by experts from all areas of dentistry

Case studies reflecting treatment planning and the use of lasers for a variety of pathologies

Detailed, full-colour art program" Taken from back cover
Also available online
Pickard's guide to minimally invasive operative dentistry, 10th edition / by A. Banerjee and T.F. Watson
Oxford University Press, 2015
Stacks RK501 .B35 2015Y

"Written in an easy to understand and concise style, the authors introduce the essentials of dental disease before outlining how to collect patient information in order to detect, diagnose, plan, and deliver care. Exploring key topics such as disease prevention and control, the principles of minimally invasive operative dentistry, contemporary restorative materials, and procedures, this completely up-to-date revised edition integrates a thorough academic grounding for degree examination with essential preparation for clinical practice for the whole oral healthcare team. Illustrated with step-by-step colour photos, common clinical procedures are clearly illustrated and labelled for beginners to learn. The tenth edition has been updated to reflect the latest evidence based guidelines for preventive management and there is a focus on maintaining existing restorations and follow up/long term care." Taken from back cover
Fundamentals of implant dentistry : prosthodontic principles, volume 1 / edited by J. Beumer III, R.F. Faulker, K.C. Shah, and P.K. Moy
Quintessence Publishing Co, Inc., 2015
Stacks RK667 .I45 F86 2015X v.1
"Some maintain that the concept of restoring missing dentition with osseointegrated implants has had a greater impact on the practice of dentistry than any new technology introduced during the last half century, and we are inclined to agree. These implant systems enable teams of restorative dentists and surgeons to restore functional and esthetic deficits with a degree of success only dreamed of prior to their introduction. However, in order to achieve this high level of predictability, the implant team must be aware of factors that predispose to their failure as well as a successful outcome. In this text, we have attempted to make the reader aware of the limits of this technology and provide a prescription for the clinician, or a formula if you will, that will ensure the highest degree of success.
In recent years, it has been acknowledged that implant dentistry is driven by the prosthodontic needs of the patient, and so this volume of our two-volume series is dedicated to implant prosthodontics. Although this textbook is devoted to designing and fabricating implant-retained prostheses, we have also attempted to indicate when conventional approaches (tooth-supported fixed partial dentures, removable partial dentures, and the restoration of diseased teeth with endodontic therapy and conventional restorative procedures) should be considered. We have also attempted to provide prosthodontic perspectives of the most commonly employed surgical procedures used to facilitate the bone and soft tissues of the potential implant sites that have evolved during the last 30 years." Taken from Preface, viii
Mosby's textbook of dental nursing, 2nd edition / edited by M. Miller and C. Scully
Mosby Elsevier, 2015
Stacks RK60.5 .S38 2015Y
"Richly illustrated in stunning full colour throughout, this new volume builds on the success of the previous edition and covers everything you need to know to get through your exams safely with the minimum of stress. Prepared in a 'no nonsense,' easy-to-read fashion, Mosby's Textbook of Dental Nurshing, second edition, covers the A-Z of the latest curriculum and contains an array of helpful 'pull out' boxes and other learning features to help you recall key facts. Fully updated with the latest information on legislation and professional practice - including the appropriate use of Social Media - this volume includes updated and new information on anatomy, charting, drug allergy, governance and care of minority and vulnerable groups. Additional features include:
Gray's Anatomy artwork helps clarify human structure and function

Over 150 photographs further bring the subject to life
Prepared by leading authorities in the field, Mosby's Textbook of Dental Nursing, second edition is ideal for candidates sitting the National Diploma, as well as serving as a ready reference for fully qualified dental nurses and all GDC registrants." Taken from back cover
"The Illustrated Handbook of Clinical Dentistry, 3rd Edition, uniquely summarized the essential principles and procedures necessary to support efficient diagnosis and treatment of dental patients. Students and clinicians alike will benefit from the compilation of varied dental topics, ranging from anesthesia methods to radiographic abnormalities. This is an indispensable resource for every dental professional.
Enhanced and updated Emergency Medicine section

Implant prosthetics added

Updated oral cancer screening techniques

New images for common radiographic lesions
Includes current diagnostic tools and other technologies that will help keep dentists current in practice

Over 200 full-colour photographs, radiographs, and illustrations

Formatted for ease-of-use with 14 tabbed chapters

Sample prescriptions for infections, ulcerations, and commonly prescribed

medications" Taken from back cover
"Access and manage occlusion problems with confidence! This comprehensive reference provides a full-colour guide to occlusion, with coverage ranging from an explanation of biological principles to treatment planning and clinical procedures. Edited by internationally renowned prosthodontics experts Iven Klineberg and Steven Eckert, it will help you treat occlusion conditions and TMJ disorders safely and effectively.
An easy-to-read, easy access format presents the newest evidence-based clinical research on occlusion.

Nearly 300 full-colour photographs and illustrations depict occlusal conditions, principles, and treatment.

A world-renowned team of expert contributors offers practical insights gained from years of clinical research and experience.

Summary tables, key points boxes, and helpful hints and tips make it easier to access and manage occlusal issues and TMJ problems. Taken from back cover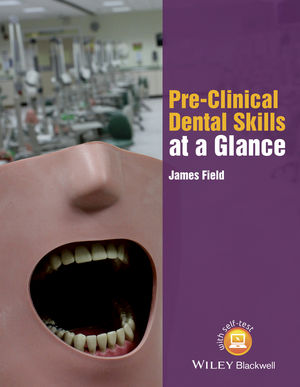 This book "provides a comprehensive and accessible guide to the basic operative skills and core clinical skills required of those about to embark on dental clinical training. It serves as the perfect illustrated introduction for pre-clinical students and a handy revision guide for subsequent undergraduate and postgraduate stages.
Following the familiar, easy-to-use, at a Glance format, each topic is presented as a double-page spread with text accompanied by clear colour diagrams and clinical photographs to support conceptual understanding. Pre-Clinical Dental Skills at a Glance is a valuable resource for students studying dentistry, dental hygiene, dental therapy or dental nursing, as well as skills-based assessments such as the Overseas Registration Exam or the Licence in Dental Surgery.
An illustrated introduction introduction to the dental clinical environment, basic operative skills and core clinical skills

Key concepts are explained and superbly illustrated enabling you to visualise the intended clinical endpoint

Core clinical skills covered include controlling cross-infection, giving and receiving effective feedback, history taking and communication skills

A companion website with self-assessment questions to help test your understanding" Taken from back cover
Foundations of periodontics for the dental hygienist, 4th edition / by J.S. Gehrig and D.E. Willmann
Wolters Kluwer, 2016
Stacks RK361 .F675 2016X
"This proven book offers up-to-date, evidence-based coverage of periodontal anatomy, the periodontal disease process, and classifications of periodontal disease in an easy-to-use, easy-to-reference outline format. Throughout this book, the author focuses on the hygienist's role in periodontal therapy and provides a wide range of features that will help you apply what you learn to real-world patient care situations.
Key features:
Five Comprehensive Patient Cases in Chapter 36--two brand-new to this edition--include clinical photos, radiographs, and periodontal charts to help you develop practice skills as you apply and integrate content from the entire book to patient periodontal care planning.

Hundreds of full color illustrations and clinical photographs visually reinforce chapter content.

A Focus on Patients feature helps you to apply chapter content in the context of clinical periodontal care.

New Evidence in Action features help you apply current evidence-based research findings to clinical patient care.
New Ethical Dilemmas features help you apply the difficult concept of legal/ethical issues to the patient care setting." Taken from back cover
"Richly illustrated in full colour throughout, this beautiful volume guides readers through the key issues of tooth structure preservation relating to MI dentistry and includes a detailed discussion of dental bleaching, the use of adhesive resin composite restorations to re-constitute teeth effectively and the use of MI techniques for replacing missing teeth, both directly and indirectly. Throughout this book, emphasis is given to the importance of tooth preservation and maintenance of pulp vitality, effective communication between the dentist, the oral healthcare team and the patient to ensure the patient's and team's expectations are appreciated, managed and met. Additional features include:
Clearly written chapters, many containing real-life clinical cases
Offers a highly visual, practical approach in a unique series format
Designed to strengthen, enhance and expand the scope of professional MI dental practice
Whether you are newly qualified or an experienced dental practitioner, this volume will be ideal for skill enhancement and is designed for use throughout the world." Taken from back cover