Books
Basic and Clinical Pharmacology, 11th edition / by Bertram G.Katzung, et al.
McGraw-Hill, c2009
"Organized to reflect the syllabi in Pharmacology courses, [this book] covers all the important concepts students need to know about the science of pharmacology and its application to clinical practice. It is acknowledged worldwide as the field's most current, authoritative, and comprehensive textbook. To be as clinically relevant as possible, the book features a strong focus on the choice and use of drugs in patients and the monitoring of their effects."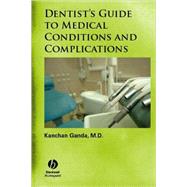 Wiley-Blackwell, c2008
This book is "a highly accessible reference to dental treatment of medically compromised patients. The ability to treat medically compromised patients is necessary for most dentists and dental professionals, and this book serves as a guide to effectively treat these patients. In a succinct, easy-to-use format, Dentist's Guide to Medical Conditions and Complications outlines protocols for treating patients with common conditions, presents essential drug interaction information, and guides the dental professional through the prevention and management of in-office medical emergencies."
Quintessence, c2009
"Written as a novel, this book models a real-life story about how a dentist improved his practice from a loss to over $2 million in net profit in a few years while simultaneously enhancing the quality of patient care. Dental practitioners and their staff will find this engaging story an easy and fun way to learn how to implement powerful, scientifically based project management principles into their practice. The story provides a relatable way to understand the approach presented, which encourages dentists and their staff to resist complicated management strategies and cost-cutting techniques and instead implement commonsense measures based on an understanding of the cause and effect that occurs when changes are made in a practice."
Fundamentals of Biostatistics, 6th edition / by Bernard Rosner.
Thomson-Brooks/Cole, c2006
"FUNDAMENTALS OF BIOSTATISTICS (WITH CD-ROM) leads you through the methods, techniques, and computations necessary for success in the medical field. Every new concept is developed systematically through completely worked out examples from current medical research problems. "
Human Physiology: An integrated approach, 5th edition / by Dee Unglaub Silverthorn
Pearson, c2010
"Human Physiology: An Integrated Approach broke ground with its thorough coverage of molecular physiology seamlessly integrated into a traditional homeostasis-based systems approach. The newly revised Fifth Edition has been significantly updated throughout and features substantially revised art and Running Problems in the book and on the student Companion Website. Recognized as an extraordinary educator and active learning enthusiast, Dr. Silverthorn incorporates time-tested classroom techniques throughout the text and presents thorough, up-to-date coverage of new scientific discoveries, biotechnology techniques, and treatments of disorders."
Oral and Implant Surgery: Principles and procedures / by J. Thomas Lambrecht, (ed.)
Quintessence, c2009
"This comprehensive reference on oral and implant surgery is written from a clinical viewpoint, with step-by-step procedures illustrated profusely with high-quality color photographs. The book, written in textbook format, is based on relevant scientific research from the past 10 years. The primary focus of the book is traditional surgery of the intraoral soft tissues and hard dental structures. Safety also is a primary theme of the book with detailed information on providing preoperative information to patients, intraoperative complications and their possible complications, and working with at-risk patients. A topic sampling includes: simple and complicated tooth extraction, tooth-preserving surgical procedures, and traumatology of permanent teeth. Appendices include lists of abbreviations commonly used and a listing of useful Internet links. Editor Lambrecht (oral surgery, oral radiology, oral medicine, U. of Basel) and six professionals in the field contributed to the book."
Sedation: A guide to patient management, 5th edition / by Stanley F. Malamed.
Mosby Elsevier, c2010
"Combining essential theory with "how-to" technical instruction, this concise guide is the leading reference for basic techniques in sedation and anxiety control in the dental office. The latest guidelines from the ADA and the American Society of Anesthesiologists keep you up-to-date with the latest medical standards. Content on patient management for pediatric, geriatric, physically compromised, and medically compromised patients helps you successfully treat any patient population."
Temporomandibular Disorders: An evidence-based approach to diagnosis and treatment / by Daniel M. Laskin, et al.
Quintessence, c2006
Understanding Anesthesia Equipment, 5th edition / by Jerry A. Dorsch & Susan E. Dorsch.
Wolters Kluwer | Lippincott Williams & Wilkins, c2008
DONATED BOOKS
The bear's toothache / Written and Illustrated by David McPhail.
Little, Brown and Company, c1972.
THESES
Access to dental care for a selected group of children and adolescents with ASD
/ by Banafsheh Abbasnezhad-Ghadi.
Thesis (M.Sc.)—University of Toronto, c2010.
The clinical relevance of paediatric access targets for elective dental treatment under general anaesthesia
/ by Sonia Sun-He Chung.
Thesis (M.Sc.)—University of Toronto, c2010.