New eBooks
Oral Biofilms and Modern Dental Materials / edited by Andrei Cristian Ionescu, Sebastian Hahnel
Springer Nature Switzerland AG 2021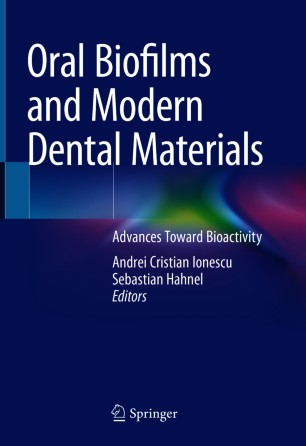 "This book provides an up-to-date perspective on oral biofilms and dental materials, equipping readers with a sound understanding of their mutual interactions. Experts from across the world comprehensively describe the main strategies that can be followed when designing modern bioactive and biomimetic dental materials, bearing in mind the goal of reducing the occurrence of pathological conditions such as secondary caries and peri-implantitis. The background to the book is the rapid expansion in the use of nanotechnologies and modern techniques to achieve levels of performance of dental materials that were unthinkable even a few years ago. Whereas conventionally dental materials have been regarded as inert, an important paradigm shift is underway: now, these materials are being conceived as bioactive and biomimetic. Modern dental materials can produce a response by interacting positively both with the host and with the biofilm permanently colonizing hard and soft tissues of the oral cavity. These materials increasingly mimic the behavior of the tissues that they are replacing. In documenting the latest knowledge in the field, this book will be of value for both scientists in the fields of nanotechnology, biofilms and dental materials and interested clinicians."
From publisher's website

Digital Dental Implantology / edited by
Jorge M. Galante, Nicolás A. Rubio
Springer Nature Switzerland AG 2021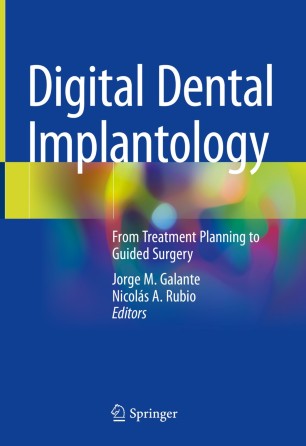 "This book describes the fusion of CBCT and CAD/CAM technologies for the purpose of surgical dental treatments and explains the advantages and applications of this digital approach for implant placement procedures and other oral surgical protocols.


All aspects of computer-aided imaging and design are first covered in the textbook, including the creation of DICOM and STL files; followed by the process of virtual merging to obtain a combined image. Secondly, clinical tips for the use of digital wax up, software interactions and accurate template fabrication are explained, including subtractive and additive methods used for this manufacturing step.


The remainder of the book is devoted to the application of technology fusion in implantology, guided bone regeneration, and maxillofacial surgery. Both static and dynamic guided surgeries are described. Materials characteristics and surgical instruments are also presented to define a correct selection criteria.


The digital approach outlined in this textbook involves a paradigm shift in the way traditional oral surgery is conceived. Technology fusion aims to improve treatment accuracy, optimize clinical time and reduce patient morbidity. Clinicians will find this book to be a valuable guide for virtual surgical planning and a path to introduce themselves into the exciting world of digital dental surgery."


Burning Mouth Disease / edited by Isaäc van der Waal
Springer Nature Switzerland AG 2021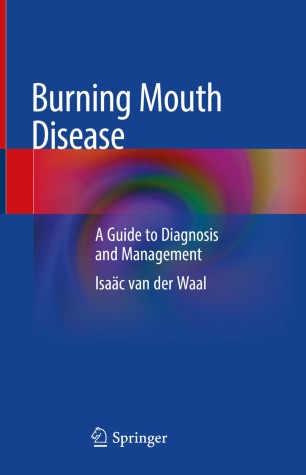 "This book gives a comprehensive overview of the symptoms, causes and treatment of Burning Mouth disease and Burning Mouth-like diseases.

Burning mouth disease (BMD), also referred to as burning mouth syndrome, is an enigmatic disease for both the patient and the clinician. When the disease is not recognized as such, the patient may become exposed to a wide variety of redundant treatments, including dental and surgical procedures. The text is science-based including literature from the past decades as well as practice-oriented containing treatment guidelines established on personal experience from the author. Much attention is paid to the symptoms of various diseases that may mimic those of BMD. Neurologic and psychogenic aspects are well covered, as are the many treatment modalities, such as pharmacological and nonpharmacological ones. Step-by-step approaches are outlined in this book to help make an apparently unbearable disease more or less acceptable to live with. This monograph will be of help for all dental and medical healthcare providers who are involved in the diagnosis and management of patients suffering from BMD and BMD-like symptoms." From publisher's website
Dentofacial Anomalies / edited by Abdul Latif Hamdan, Robert Thayer Sataloff, Valerie Trollinger, and Mary J. Hawkshaw
Springer Nature Switzerland AG 2021


Dentofacial Anomalies: Implications for Voice and Wind Instrument Performance is addressed to otolaryngologists, laryngologists, speech-language pathologists, voice teachers, professional voice users, wind instrumentalists, instrument teachers, arts medicine physicians, physical therapists, orthodontists and other dentists, as well as members of the general public who are concerned about their voices and or wind instrument playing." From publisher's website


Pediatric Maxillofacial Trauma / edited by George M. Kushner, Lewis C. Jones
Springer Nature Switzerland AG 2021


From publisher's website


Oral and Maxillofacial Surgery for the Clinician

/ edited by

Krishnamurthy Bonanthaya, Elavenil Panneerselvam, Suvy Manuel, and Vinay V. Kumar, Anshul Rai

The Association of Oral and Maxillofacial Surgeons of India 2021




This comprehensive open access textbook provides a comprehensive coverage of principles and practice of oral and maxillofacial surgery. With a range of topics starting from routine dentoalveolar surgery to advanced and complex surgical procedures, this volume is a meaningful combination of text and illustrations including clinical photos, radiographs, and videos. It provides guidance on evidence-based practices in context to existing protocols, guidelines and recommendations to help readers deal with most clinical scenarios in their daily surgical work.

This multidisciplinary textbook is meant for postgraduate trainees, young practicing oral surgeons and experienced clinicians, as well as those preparing for university and board certification exams. It also aids in decision-making, the implementation of treatment plans and the management of complications that may arise.

This book is an initiative of Association of Oral and Maxillofacial Surgeons of India (AOMSI) to its commitment to academic medicine. As part of this commitment, this textbook is in open access to help ensure widest possible dissemination to readers across the world." From publisher's website



Management of Oral Cancers / edited by Sudhir Bahadur and Subramania Iyer

Springer Nature Singapore Pte Ltd. 2021

This book comprehensively and systematically reviews all these aspects of diagnostic and therapeutic advances in oral cancer, particularly discussing early detection, epidemiology, chemoprevention and current research.

Written by specialists who are active leaders in basic sciences or clinical fields, the chapters address individual and collective issues in managing patients with oral cancer, and provide insights into various treatment approaches. The authors share their knowledge and experience and provide extensive literature sources to encourage clinicians to be flexible, innovative and help them make the best, educated decisions for individual patients." From publisher's website

The Surgery-First Orthognathic Approach / edited by Jong-Woo Choi and Jang Yeol Lee
Springer Nature Singapore Pte Ltd. 2021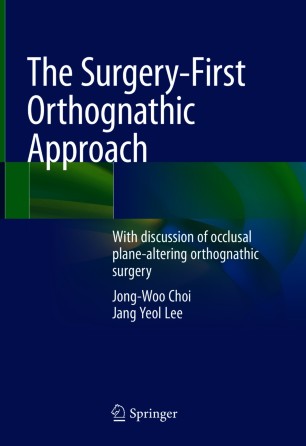 "This book is a comprehensive guide to the surgery-first orthognathic approach for patients with malocclusion and skeletal disharmony, which has been successfully applied by the authors in their practices over the past 15 years. The approach breaks with the time-tested principles of traditional orthognathic surgery in that corrective bone surgery is performed first, without the removal of dental compensations, followed by orthodontic finishing. All aspects are covered with the aid of numerous illustrations, the aim being to provide surgeons with a systematic educational tool that will enable them to introduce the approach into their own practice. In addition, the book addresses one of the hot issues in orthodontics, occlusal plane-altering orthognathic surgery, in which surgical modification of the occlusal plane is employed to treat various types of dentofacial deformity and improve facial proportions. This promises to become a very powerful tool in modern orthognathic surgery." From publisher's website


Basic Open Rhinoplasty

/ edited by

Fabio Meneghini

Springer Nature Switzerland AG 2021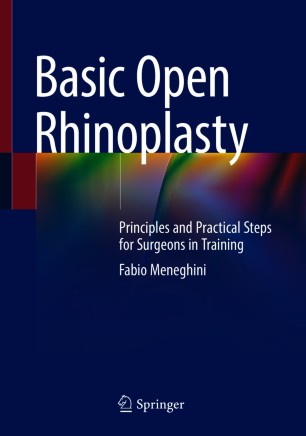 "Expressly designed for surgeons in training who are new to nasal rhinoplasty, this textbook is written in a simple didactic style. A century after the first open rhinoplasty was performed by Dr. Aurel Réthi in Hungary, open rhinoplasty is now the most commonly used approach to aesthetic and reconstructive nasal surgery; the author's decades of experience will safely guide the reader through her/his journey from the first contact with new patients to the postoperative analysis of clinical results.

Instead of the usual classification of surgical techniques and anatomical regions, here the learning process is based on a sequence of steps, each of which addresses the most frequent problems that surgeons are likely to encounter in everyday clinical practice. In addition, the most relevant surgical instruments and electromedical devices are presented, together with their specific features and techniques, such as inclination and positioning during the procedure. Each step is richly illustrated and supported by a suggested reading list, as well as content on ethical and general principles. A specific chapter on radiological pre-evaluation assessment makes this book unique. Given its clear structure, its appealing didactic style and wealth of figures, Basic Open Rhinoplasty offers a much-valued step-by-step companion for postgraduate students, surgeons in training, and medical practitioners who deal with rhinoplasty in their clinical practice." From publisher's website


Office Based Anesthesia Complications / edited by Gary F. Bouloux
Springer Nature Switzerland AG 2021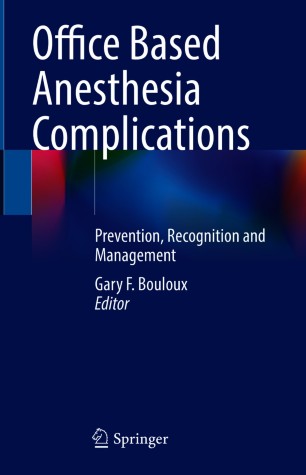 "This book is based on the most common office based anesthesia complications that have been identified over the last 10 years. This has allowed the development of a presentation on the prevention, recognition and management of office based anesthesia complications to be delivered over 10 years to thousands of oral and maxillofacial surgeons in an attempt to reduce the incidence of future complications. This text provides detailed methods to allow the oral and maxillofacial surgeon, anesthetist and anesthesiologist to risk stratify patients as well as prevent, recognize and manage the most common anesthesia related complications. Additionally, it describes how to run an ideal Advanced Cardiac Life Support (ACLS) driven megacode, identify differences in pediatric anesthesia and ideally manage opioid needs of the oral and maxillofacial surgery patient.

Office Based Anesthesia Complications is based on the most common anesthesia related complications that have been documented over more than 20 years of data collection for Oral and Maxillofacial Surgery." From publisher's website


Diagnosis in Otorhinolaryngology

/ edited by

T. Metin Önerci and Zeynep Önerci Altunay
Springer Nature Switzerland AG 2021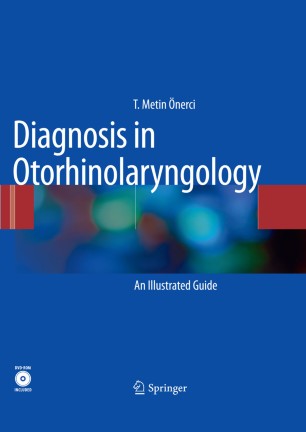 "This revised and expanded second edition provides a comprehensive and up-to-date pictorial overview of the majority of ENT conditions. When making a diagnosis, it is of paramount importance that the ear, nose and throat (ENT) specialist views the lesion and recognizes its pathology. Recent advances in endoscopic technology have enabled us to obtain clear images of such lesions and have changed our approach to diseases and techniques in the fields of ENT and head and neck surgery.

Featuring schematic drawings to make difficult topics more understandable, the book supports beginners in their search for the correct diagnosis, and increases their understanding of basic surgical approaches. It provides fundamental information required for diagnosis and treatment in an easily accessible form, while the tables, photographs and schematic drawings allow readers to grasp the problems quickly. It is also a useful guide for all experts involved in teaching diagnostic and surgical skills.

Diagnosis in Otorhinolaryngology 2nd Edition is intended for general practitioners, medical students and ENT trainees, fellows, academicians and teachers." From publisher's website


Diseases and Injuries to the Head, Face and Neck / edited by Michael Perry

Springer Nature Switzerland AG 2021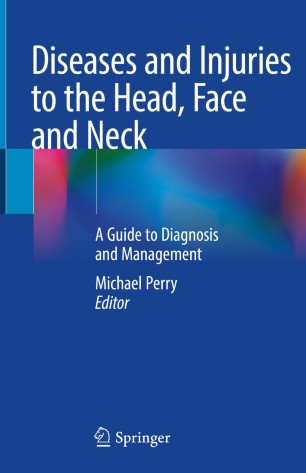 "This book provides a practically applicable guide to injuries, diseases, and disorders affecting the head, neck, and dental region seen within accident and emergency departments. These regions contain a number of specialized structures each with individual neural, muscular and vascular elements, meaning that the study of these anatomical areas is complicated and often quite daunting.

Chapters in this work aim to break the treatment of such injuries and diseases into an easy-to-digest format via chapters featuring a symptom-based approach. Therefore, enabling the reader to quickly access the information they require when treating patients with a variety of disorders in the emergency room.

Diseases and Injuries to the Head, Face and Neck: A Guide to Diagnosis and Management is a concise overview of how to deal with head, neck, and dental emergencies and is an important up-to-date resource for all medical professionals and trainees who encounter these patients." From publisher's website


Applied Head and Neck Anatomy for the Facial Cosmetic Surgeon / edited by Elie M. Ferneini, Michael T. Goupil, Margaret A. McNulty and Christine E. Niekrash
Springer Nature Switzerland AG 2021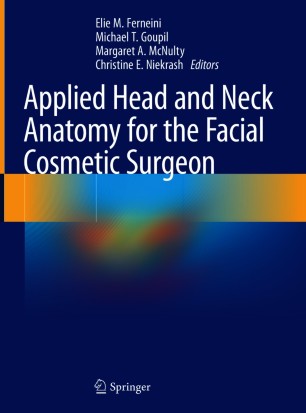 "In an era of high demand for aesthetic procedures, this text provides a practical and comprehensive look at facial cosmetic surgery to ensure practitioners have the best information available for treating their patients. The editors have extensive academic experience and have authored multiple scientific publications, while the contributions included in the text have been written by experts and leaders in the field. Applied Head and Neck Anatomy for the Facial Cosmetic Surgeon is for a multi-disciplinary audience including oral & maxillofacial surgeons, plastic surgeons, otolaryngologists, cosmetic surgeons, and dentists.

Divided into three distinct sections for ease of use, the first section focuses exclusively on localized anesthesia for each region of the head and neck. Chapters focus on the techniques that best affect these regions with a chapter closing the first section, on managing potential anesthetic complications. The second section covers the regional anatomy of the face by offering high definition photos of cadaver dissections and anatomic illustrations to highlight pertinent muscle and bone structures. The third and final section combines the skills detailed in the first two sections and applies them to a variety of surgical, cosmetic procedures." From publisher's website


Complications in Neck Dissection / edited by Thomas Schlieve and Waleed Zaid

Springer Nature Switzerland AG 2021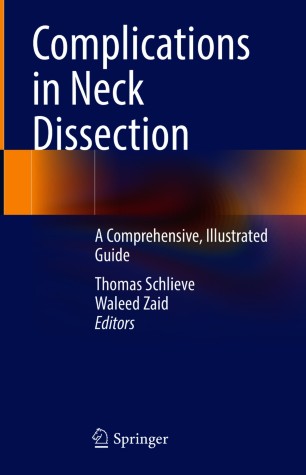 "This book is intended as a comprehensive reference on the anatomy, pathophysiology, and management of complications in neck dissection. The informative text is complemented by detailed clinical photos, high-quality illustrations, and clinical material from experienced and respected leaders in the field of neck surgery. An understanding of potential complications and early recognition of their signs and symptoms will prepare the surgeon to mitigate risk, minimize morbidity, and improve outcomes for each of their patients. Early recognition of the signs and symptoms of post-operative complications can prevent exacerbating the problem.

Complications in Neck Dissection aims to shed light on these complications in greater detail and elaborate on their management. Written by experts in the field, the book reflects upon common and rare complications that are encountered and elaborates on how neck surgeons can prevent them." From publisher's website


New Theses

The Development and Assessment of a Measure of the Quality of Preventive Oral Health Services for First Nations Communities / by Janelle Jennifer Carrie Brown-Walkus

Anti-degradative Total-Etch Adhesive to Preserve Bonded Interfaces / by Ousama Damlaj
MSc, University of Toronto, 2021

Identification and Characterization of Proteolytic Activities from S. mutans that Hydrolyzes Dentinal Collagen Matrix / by Bo Huang
MSc, University of Toronto, 2021

Effect of Resveratrol and Implant Surface Topography on Osseointegration under Hyperglycemic Conditions / by Anthony Joseph Staibano
MSc, University of Toronto, 2021


Evaluation of a Novel Anabolic Bone Drug with Synthetic Bone Graft Biomaterials in a Rat Jaw Bone Defect / by Mohamed Nur Abdallah
MSc, University of Toronto, 2020

MSc, University of Toronto, 2020







MSc, University of Toronto, 2020

CD301/CLEC10 Expression and its Role in IL-4 driven Multinucleated Giant Cell Formation / by Joyce Patricia Brooks
PhD, University of Toronto, 2020

MSc, University of Toronto, 2020




MSc, University of Toronto, 2020







Canadian General Dentists' Perceptions about their Relationship with Specialists / by Harpinder Kaur

MSc, University of Toronto, 2020










MSc, University of Toronto, 2020