Digitization in Dentistry / edited by Priyanka Jain and Mansi Gupta
Springer Nature Switzerland AG 2021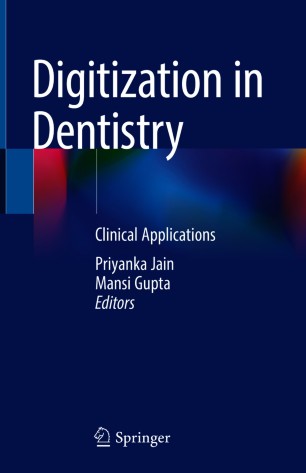 "This book provides evidence-based guidance on the clinical applications of digital dentistry, that is, the use of dental technologies or devices that incorporate digital or computer-controlled components for the performance of dental procedures. Readers will find practically oriented information on the digital procedures currently in use in various fields of dental practice, including, for example, diagnosis and treatment planning, oral radiography, endodontics, orthodontics, implant dentistry, and esthetic dentistry. The aim is to equip practitioners with the knowledge required in order to enhance their daily practice. To this end, a problem-solving approach is adopted, with emphasis on key concepts and presentation of details in a sequential and easy to follow manner. Clear recommendations are set out, and helpful tips and tricks are highlighted. The book is written in a very readable style and is richly illustrated. Whenever appropriate, information is presented in tabular form to provide a ready overview of answers to frequent doubts and questions." From publisher's website


3D Diagnosis and Treatment Planning in Orthodontics / by edited by Jean-Marc Retrouvey and Mohamed-NurAbdallah
Springer Nature Switzerland AG 2021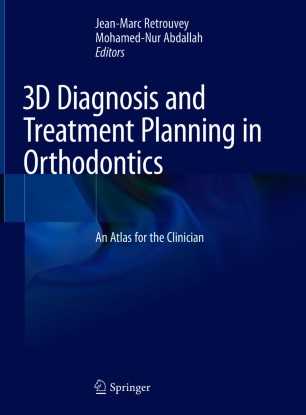 "This richly illustrated book is a wide-ranging guide to modern diagnostics and treatment planning in orthodontics, which are mandatory prior to the initiation of any type of comprehensive treatment. The importance of three-dimensional (3D) imaging techniques has been increasingly recognized owing to the shortcomings of conventional two-dimensional imaging in some patients, such as those requiring complex adult treatment and those with temporomandibular joint dysfunctions or sleep disturbances. In the first part of this book, readers will find clear description and illustration of the diagnostic role of the latest 3D imaging techniques, including cone beam computed tomography, intra-oral scanning, and magnetic resonance imaging. The second part explains in detail the application of 3D techniques in treatment planning for orthodontic and orthognathic surgery. Guidance is also provided on the use of image fusion software for the purposes of accurate diagnosis and precise design of the most appropriate biomechanical approach in patients with malocclusions." From publisher's website

Ultrasonography in Dentomaxillofacial Diagnostics / edited by
Kaan Orhan
Springer Nature Switzerland AG 2021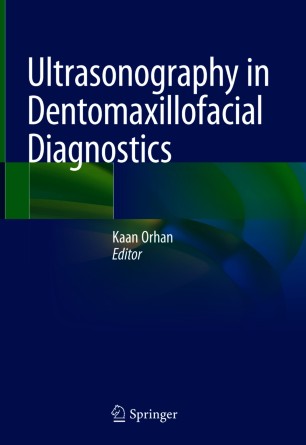 "This book offers a comprehensive review of the state of the art in Ultrasonography (USG) dentomaxillofacial imaging to help radiologists and dentists in their training and daily practice.
The book examines the relationship between clinical features, diagnosis, and choice of minimally invasive technique for a range of dentomaxillofacial disorders and provides information on post-treatment therapy. Accurate interpretation of indications for treatment is the cornerstone of success in medicine, and as such, the book explains how the selection of imaging technique is closely linked to clinical and diagnostic aspects and how recognition of this relationship forms the foundation for optimal outcomes. In addition to examining the various modalities, the book highlights the role of the latest USG imaging techniques. Further, it discusses in detail the pathology, treatment, and prognosis of common and rare diseases, as well as congenital/developmental malformations in the dentomaxillofacial, an area that is often underestimated and largely ignored by dentists.

Featuring updated high-resolution images created with state-of-the-art equipment, the book introduces readers to current imaging modalities. It also includes pathological descriptions of radiologic diagnoses to help clarify the pathophysiology of the disease, while the pearls and pitfalls of image interpretation provide a quick reference guide for practitioners.

Written by leading international experts, this outstanding book is a valuable resource for both radiologists, dentists and students seeking a more in-depth appreciation of the subject and its contribution to the scientific radiology community." From publisher's website


An Illustrated Guide to Oral Histology / edited by Imran Farooq, Saqib Ali and Paul Anderson
2021 John Wiley & Sons Ltd.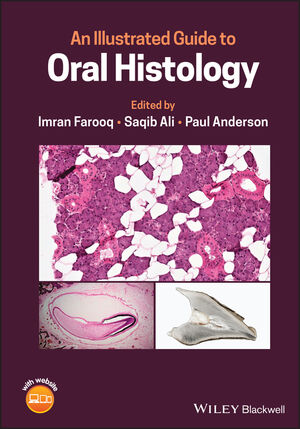 "Learn more about the histological presentation of diseased and normal oral tissues with this high definition illustrated dental reference.
An Illustrated Guide to Oral Histology delivers a collection of high-definition histological and pathological images, presenting both diseased and normal oral tissues.
The book provides over 200 high-magnification histomicrographs of oral tissues, as well as definitions and explanations of key identifying histological and pathological features of oral tissues. Readers will also benefit from explanations of the clinical significance of particular features, numerous images of ground sections, haemotoxylin- and eosin-stained sections, and electron images. It also includes core topics such as:
An introduction to tooth development, including the bud, cap, early bell, and late bell stages

A thorough exploration of enamel, dentin, cementum and dental pulp

A discussion of the periodontal ligament, including alveolar crest fibers, horizontal, oblique, apical, and inter-radicular fibers, transseptal fibers, and gingival fibers


A guide to alveolar bone, oral mucosa, and salivary glands
Perfect for postgraduate dental students, An Illustrated Guide to Oral Histology will also be useful to undergraduate dental students, and those looking to improve their understanding of the microscopic structure of dental tissues and their pathologies." From publisher's website

Biological Mechanisms of Tooth Movement, Third Edition / edited by Vinod Krishnan, Anne Marie Kuijpers‐Jagtman, and Ze'ev Davidovitch
2021 John Wiley & Sons Ltd.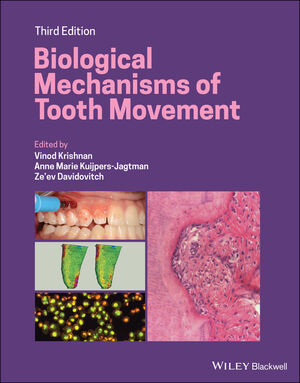 "This new edition continues to be an authoritative reference to the scientific foundations underpinning clinical orthodontics
The newly and thoroughly revised Third Edition of Biological Mechanisms of Tooth Movement delivers a comprehensive reference for orthodontic trainees and specialists.
It is fully updated to include new chapters on personalized orthodontics as well as the inflammatory process occurring in the dental and paradental tissues. It is heavily illustrated throughout, making it easier for readers to understand and retain the information discussed within. The topics covered range from bone biology, the effects of mechanical loading on tissues and cells, genetics, tissue remodeling, and the effects of diet, drugs, and systemic diseases.
The Third Edition of Biological Mechanisms of Tooth Movement features seven sections that cover subjects such as:
The development of biological concepts in orthodontics, including the cellular and molecular biology behind orthodontic tooth movement

Mechanics meets biology, including the effects of mechanical loading on hard and soft tissues and cells, and biological reactions to temporary anchorage devices

Inflammation and orthodontics, including markers for tissue remodeling in the gingival crevicular fluid and saliva

Personalized diagnosis and treatment based on genomic criteria, including the genetic influences on orthodontic tooth movement

Rapid orthodontics, including methods to accelerate or decelerate orthodontic tooth movement
Perfect for residents and PhD students of orthodontic and periodontal programs, Biological Mechanisms of Tooth Movement is also useful to academics, clinicians, bone biologists, and researchers with an interest in the mechanics and biology of tooth movement." From publisher's website




Endodontic Materials in Clinical Practice / edited by Josette Camilleri
2021 John Wiley & Sons Ltd.
"
Endodontic Materials in Clinical Practice
delivers a much-needed comprehensive and clinically oriented reference to the materials used in endodontic practice. It provides complete details on the properties of the materials required for specific techniques in order to help in the selection of the appropriate materials and improve patient outcomes.
Comprehensive in scope and filled with helpful illustrations, the book covers endodontic materials used from the pulp to the root-end. In addition, the text considers the location and technique for each of the materials presented. Designed to be a practical and accessible reference, the book is organized by specific clinical procedure.
Presents an illustrated guide to all materials used in endodontic
practice

Focuses on the clinical application for each material

Explains why specific materials are used

Includes information on how to select the correct material

Considers locations and techniques in making material decisions
Written for specialist endodontists and residents, dental material specialists, post-graduate students, general dentists, and dentistry students, Endodontic Materials in Clinical Practice is an essential resource for selecting the right materials for specific techniques." From publisher's website