New eBooks

Global Cleft Care in Low-Resource Settings / edited by Jordan W. Swanson
Springer Nature Switzerland AG 2021
Cleft lip and palate represents the most common congenital facial anomaly. Congenital anomalies are one of the top 10 causes of disability and suffering in many low and middle income countries (LMICs.) Further, an estimated 30% of the global burden of disease is treated primarily through surgery, and among surgical conditions, treating clefts conveys disproportionately large benefit relative to cost because suffering can be halted at a young age and deliver a lifetime of health.
Soft Tissue Tumors / edited by Simone Mocellin
Springer Nature Switzerland AG 2021
"The "world" of soft tissue sarcomas is a highly complex one, due to the large range of tumor types, each of which is characterized by specific features in terms of its epidemiology, pathology diagnosis, clinical behavior, therapy and biomarker pattern (of both diagnostic and therapeutic value). This book offers a practical, clearly structured reference guide, covering all of these aspects for each soft tissue tumor. Thanks to the consistent and user-friendly format, readers can quickly and easily find the information they need; in addition, up-to-date and authoritative literature information helps them to pursue further research.
Overall, this book offers professionals and residents in the fields of oncology, surgery, and pathology an essential guide for study, review, and everyday clinical practice." From publisher's website
Pediatric Anesthesiology Review / edited by Robert S. Holzman, Thomas J. Mancuso, Joseph P. Cravero and James A. DiNardo
Springer Nature Switzerland AG 2021
"This book functions as a workbook for consultants in pediatric anesthesia. Based on a curriculum developed at the Boston Children's Hospital Department of Anesthesiology, the content illustrates the breadth and depth of the practice of pediatric anesthesia.
Organized into two parts, the book seeks to provide a sense of progression and feedback using clinical scenarios to aid the medical professional in developing autonomy, while preserving the availability of expert level discussion. Each chapter features self-assessments in question and answer format, and encourages the reader to be creative in their responses by invoking not only their clinical knowledge, but their philosophical views of pediatric anesthesia practice as well.
Practical and accessible, The Pediatric Anesthesiology Review is an essential resource for those looking to attain proficiency, expertise, and mastery in pediatric anesthesiology." From publisher's website

Ultrasonographic Anatomy of the Face and Neck for Minimally Invasive Procedures / edited by Hee-Jin Kim, Kwan-Hyun Youn, Ji-Soo Kim, You Soo Kim, Sung Ok Hong and Jongju Na
Springer Nature Singapore Pte Ltd. 2021
"This is the very first book to describe the superficial anatomic structure of the face and neck by means of detailed ultrasonography (US). This superbly illustrated book will help aesthetic physicians to familiarize themselves with the US anatomy of the face and neck and to understand the applications and benefits of US when performing minimally invasive aesthetic procedures in this region. A deep understanding of anatomy is imperative if such procedures are to be safe and effective. Bearing in mind the range of potential anatomic variations, US can offer vital assistance in identifying target structures of the face beneath the skin when carrying out treatments that would otherwise be performed "blind". In this book, readers will find detailed guidance on the use of US in the context of botulinum toxin and filler injections, threading procedures, and other minimally invasive aesthetic approaches. This is done with the aid of more than 530 US images, including cadaveric dissections and illustrations of volunteers and patients. For novices, valuable information is also provided on the basics of US imaging."
From publisher's website

Textbook of Clinical Otolaryngology / edited by Abdulsalam Al-Qahtani, Hassan Haidar and Aisha Larem
Springer Nature Switzerland AG 2021
"This textbook provides a comprehensive overview of the state of the art in otolaryngology, discussing all the newly advances in the subspecialties of head and neck, plastics, otology, laryngology, rhinology and pediatrics, and also addressing topics like allergy, sleep medicine, trauma, and the fundamentals of systemic diseases that frequently manifest in the head and neck region.
The book is divided into 9 sections, presenting the recent literature concerning all the subspecialties in otolaryngology and providing the information necessary for readers to gain an understanding of the field of otolaryngology.
Each chapter includes definitions, key points and take-home messages, to aid learning. Throughout the book, tips and key features are highlighted with boxes, tables and figures, which the reader can refer back to for quick revision. Above all, the book enables medical students, residents and junior specialists in the field of ENT to develop their learning and surgical skills." From publisher's website

Trigeminal Nerve Pain / edited by Alaa Abd-Elsayed
Springer Nature Switzerland AG 2021

"This book provides an overview of the history, anatomy, epidemiology, diagnosis (HPI, PE, Imaging), non-pharmacological management and medication management of trigeminal nerve pain. Nerve blocks for the trigeminal nerve and branches, Radiofrequency ablation, chemodenervation, cryotherapy, botox injections, neuromodulation infusion therapy, balloon compression gamma knife therapy, decompression surgery, peripheral neurectomy and the psychological impact are also examined with an algorithm for management recommendations included in the final chapter.

Trigeminal Nerve Pain - A Guide to Clinical Management comprehensively covers how to manage patients with this often debilitating pain and is of use to trainees and practising internists, hospitalists, surgeons and anaesthesiologists seeking to increase their understanding of this complex condition." From publisher's website



The Dental Team in the European Union / edited by Sondra Z. Koff

Springer Nature Switzerland AG 2021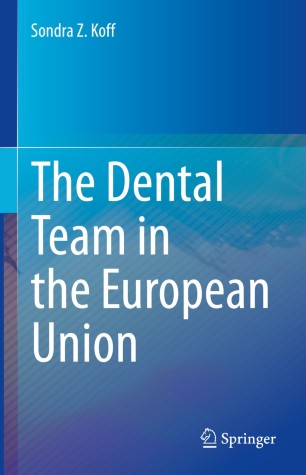 "This book discusses dental healthcare professionals in the European Union and EU policy output and activities in the context of Europeanization and its impact on oral health care. Adopting a framework focused on an institution and its policies allows for discussion from the perspective of multiple actors, both national and international. The research is timely and significant because of the momentous changes that have taken and are taking place in healthcare delivery systems and professions in the Member States of the European Union.
In the book, the author constructs a profile of the oral healthcare professions in the Member States; creates an inventory of challenges faced by these professions; illustrates the impact Europeanization and one of its organs, the European Union, have had on oral health care; demonstrates the way in which national traits and institutions exercise a role in the transposition of EU outputs; and catalogues the stages and views of some representatives of the dental team. Topics explored include:
The First Stage of Professionalization: Education
Dental Care Professionals: Regulation
Member States: Healthcare Provision
The Workplace
The European Union and the Dental Team
Readers not only learn the fundamentals of oral health professions, their realities, and healthcare delivery, but also become familiar with the political concepts, institutions, and practice related to the field.
The Dental Team in the European Union, having academic and general interest as well as practical value, appeals to diverse audiences. The book is an invaluable resource for researchers and practitioners in the social sciences and the healthcare and dental worlds. It also can be used as required or supplemental reading for students in the healthcare professions, public policy, and political science. Decision-makers at various levels of government and persons affiliated with funding agencies as well as scholarly and professional associations in the United States and abroad also would find this a useful text."
From publisher's website
Sjögren's Syndrome and Oral Health / edited by Seunghee Cha
Springer Nature Switzerland AG 2021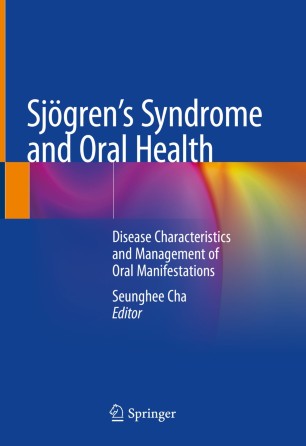 "This book provides a thorough update on Sjögren's syndrome (SS) and its adverse impacts on oral health. The opening section focuses on the clinical and laboratory characteristics of SS and its current management. Here, readers will find information on diagnostic criteria, pharmacotherapy, dental management, and the importance of saliva in oral health and SS. Attention then turns to the immunopathogenesis of SS, which includes the mechanisms of secretory dysfunction, myoepithelial cell functions in salivary gland physiology and disease, dysregulated innate and adaptive immunity, and B-cell expansion and neoplasia. The final section details important advances in SS diagnosis and therapy. The differential diagnoses of recurrent glandular swelling, glandular irrigation and sialendoscopy, and salivary gland ultrasound for SS in children are explained, along with the pharmacological management for SS, clinical care for dry eyes, and gene therapy. This book will be of interest to not only dental practitioners and researchers but also rheumatologists and pathologists."
From publisher's website
Paediatric Dentistry for the General Dental Practitioner / edited by Sondos Albadri and Claire L. Stevens
Springer Nature Switzerland AG 2021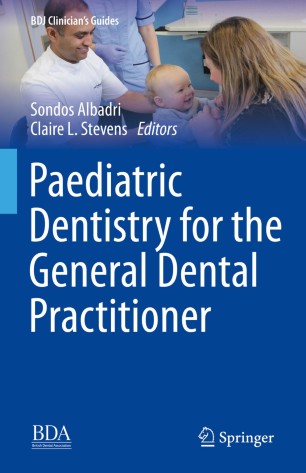 "This book is a practical, comprehensive guide to the management of children and adolescents in general dental practice. A logical, evidence-based approach to oral health is adopted throughout. The commonly encountered oral and dental problems and their diagnosis and treatment are covered in detail, with particular attention to dental caries, dental trauma, developmental anomalies, periodontal problems, and soft tissue conditions. Up-to-date guidance is provided on history taking, dental examination, preventive strategies and advanced behaviour management. In addition the relevance of common medical conditions to dental management is discussed. The book is divided into four sections, each of which focusses on a specific age group, helping the reader to relate clinical issues to the different dental developmental stages. The readily understandable text is supported by many informative colour illustrations and diagrams."
From publisher's website
Clinical Atlas of Retreatment in Endodontics / edited by Viresh Chopra
2021 John Wiley & Sons Ltd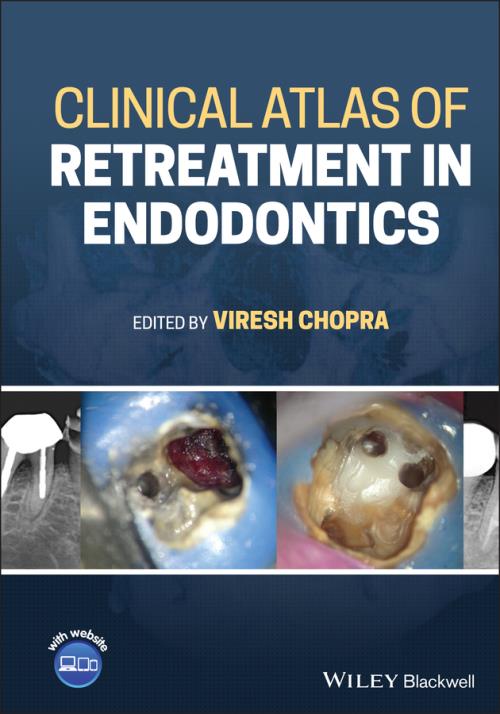 "
Explore a comprehensive pictorial guide to the retreatment of root canals and failed endodontic cases with step-by-step advice on retreatment management
Clinical Atlas of Retreatment in Endodontics delivers an image-based reference to the management of failed root canal cases. It provides evidence-based strategies and detailed clinical explanations to manage and retreat previous endodontically failed cases. It contains concrete evidence-based and practical techniques accompanied by full-colour, self-explanatory clinical photographs taking the reader through a journey of successful management of the failed clinical cases.
Using a variety of clinical cases, the book demonstrates why and how endodontic failures occur, how to prevent them, and how to manage them in clinical practice. It also emphasises on evaluating the restorability and prognosis of the tooth in order to make a proper case selection for providing retreatment. This book also discusses the various factors that can help the clinician to make a case for nonsurgical or surgical retreatment. Readers will benefit from the inclusion of clinical cases that provide:
A thorough introduction to perforation repair, with a clinical case that includes the repair of pulpal floor perforation caused due to excessive cutting of the floor of the pulp chamber
An explanation of various factors for instrument separation, supported with a case that includes the removal of a fractured instrument
Practical discussions of instrument retrieval, with a case that includes a fractured instrument at the apical third of mandibular molar
A step wise pictorial description for guided root canal therapy
Selective root canal treatment as a treatment option for retreatment of failed endodontic cases
A detailed clinical description for how to explore and modify the endodontic access cavity for locating extra/missed canals
Perfect for endodontists, endodontic residents, and general dentists, Clinical Atlas of Retreatment in Endodontics is also useful for undergraduate dental students and private practitioners who wish to improve their understanding of endodontic retreatment and are looking for a one-stop reference on the subject." From publisher's website