New Books
Dermal Fillers for Dental Professionals / by Arun K. Garg and Renato Jr Rossi
Quintessence, 2021

"Have you decided to grow the esthetic side of your dental practice by offering dermal filler treatments? Or do you want to learn a bit more about them before taking the plunge? Esthetic dentistry expert Dr Arun Garg has partnered with Dr Renato Rossi to put together an in-depth clinical manual on everything you need to know to provide dermal filler treatment. The first section covers everything from recommendations for specific filler products to sample patient forms to skin anatomy review. The second section comprises an illustrated step-by-step guide to performing over a dozen specific procedures, categorized by complexity. Each procedure is also accompanied by a real-life case example, and the combination of photographs and computer-generated illustrations provides the reader with the necessary breadth and depth of understanding of every crucial detail to perform these treatments safely and effectively. Whether you're getting started with dermal fillers and ready to practice the basics or a dermal fillers veteran ready to explore more complex treatments, this book is for you!" From Publisher's website.


Practical Procedures in Dental Occlusion / by Ziad Al-Ani and Riaz Yar
Wiley, 2022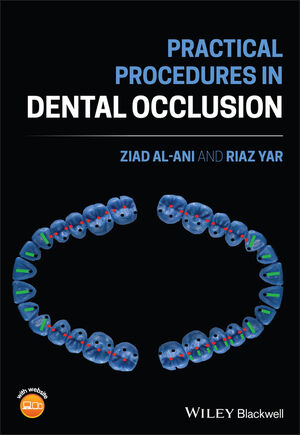 "A robust and accessible resource on occlusion for general dental practitioners.
Practical Procedures in Dental Occlusion delivers a solid and reliable exploration of dental occlusion. The book offers practical and accessible information about evidence-based techniques applicable to everyday clinical situations encountered in general practice.
The authors provide a straightforward guide to the optimisation of restorative treatment outcomes, including occlusion in simple and advanced restorative care. The inclusion of questions at the end of the book, a glossary of useful terms and phrases in occlusion encourages self-assessment.
Thorough introductions to common prosthodontic terms, neuromuscular philosophies, and the equipment and techniques used in occlusal examination

Practical explorations of typical problems faced by practitioners when recording occlusal contacts using different articulating papers

Overviews of "high crown" clinical scenarios, including the importance of opposing alginate impressions and cast mounting

An insightful treatment of the clinical scenario of a fractured upper central incisor composite restoration

Perfect for undergraduate dental students and general dental practitioners, Practical Procedures in Dental Occlusion is a valuable resource for those seeking a systematic and logical treatment of the management of occlusal problems." From Publisher's website.

Handbook of Oral Pathology and Oral Medicine / by S. R. Prabhu
Wiley, 2022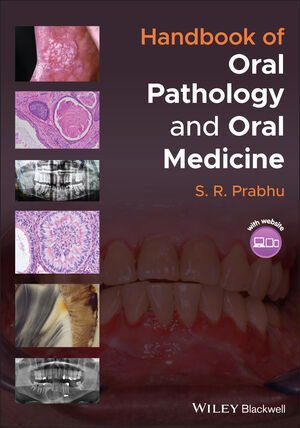 "Discover a concise overview of the most common oral diseases in a reader-friendly book
Handbook of Oral Pathology and Oral Medicine delivers a succinct overview of a range of oral diseases. The book contains up-to-date evidence-based information organized by clinical topic and supported by over 300 clinical, radiological, and microscopic images. Each chapter includes topics following universally respected curricula of oral pathology and oral medicine.
Divided into seven parts, it covers core topics such as pathology of teeth, pulp, and supporting structures, pathology of jawbones, pathology of the oral mucosa, pathology of the salivary glands, clinical presentation of mucosal disease, orofacial pain, and miscellaneous topics of clinical relevance.
Written for undergraduate dental students, dental hygienists and oral health therapists, Handbook of Oral Pathology and Oral Medicine is an ideal quick reference and is also useful to dental educators and practitioners." From Publisher's website.
Manipal Prep Manualof Medicine for Dental Students / by M. Manthappa
CBS, 2020


"This book will help the dental students master the knowledge in general medicine and also prepare for their general medicine examination easily. Presented in Question-Answer style, the book also contains multiple choice questions (MCQs) which are being asked commonly as part of the theory paper in most of the universities/institutions." From Publisher's website.



Orthodontics Current Principles and Techniques / edited by Amy Reed
Hayle Medical, 2019


"Orthodontics, also known as orthodontia, is a specialty in the field of dentistry. It is concerned with the diagnosis of malpositioned teeth and jaws along with their correction and prevention. The abnormal deviation of teeth from the ideal occlusion is known as malocclusion. Orthodontic camouflage and growth modification are two common methods for treating malocclusions with underlying skeletal problems. A combination of orthodontic and orthognathic surgical treatment may also be used to correct jaw discrepancy. Orthodontic indices such as angle's classification, malignment index, occlusal feature index, Handicapping Labiolingual Deviation Index (HLDI), etc. are used to grade and assess malocclusions. This book is a valuable compilation of topics, ranging from the basic to the most complex advancements in the field of orthodontics. From theories to research to practical applications, case studies related to all contemporary topics of relevance to this field have been included herein. This book attempts to assist those with a goal of delving into the field of orthodontics."
From Publisher's website.


New eBooks
Dental Gold Alloys and Gold Nanoparticles for Biomedical Applications / by Rebeka Rudolf, Vojkan Lazić, Peter Majerič, Andrej Ivanič, Gregor Kravanja, Karlo T. Raić
Springer Nature Switzerland AG 2022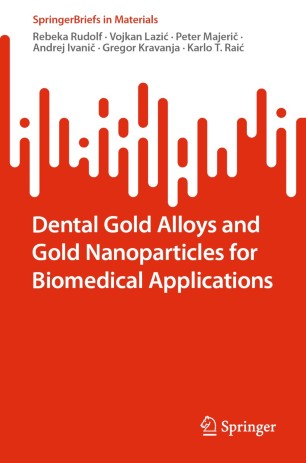 Offers a comprehensive overview of the development and use of dental gold alloys

Discusses gold nanoparticles as novel materials for biomedical and other health-related applications

Features topical literature reviews alongside recent experimental results
From Publisher's website.
The History of Maxillofacial Surgery / by Elie M. Ferneini, Michael T. Goupil, and Steven Halepas
Springer Nature Switzerland AG 2022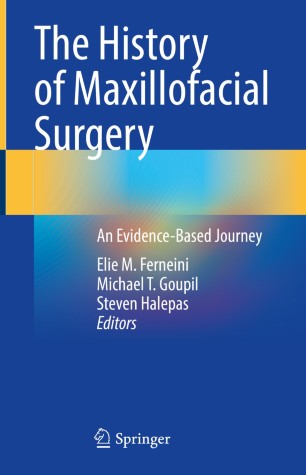 "
The multi-authored, multi-institutional, and multi-specialty-based text is designed as a valuable resource for surgeons working on the maxillofacial region. Meant to be a clinically based history of the past, the present, and the future of the field, this is a one-of-a-kind text that will cater to a variety of professions: from oral & maxillofacial surgeons, plastic and reconstructive surgeons, otolaryngologists – head and neck surgeons, cosmetic surgeons and the general dental practitioner.
The History of Maxillofacial Surgery:
An Evidence-Based Journey is divided into three sections for ease of understanding: The first section gives an overview of the early history; the second section provides a discussion of conventional procedures; and the third section gives a history of advanced procedures and techniques. By understanding the fundamental procedures and techniques of the field, practitioners can continue to further the field by building upon the past. Including historic case studies paired with real patient photos, this text details why professionals do what they do today with insight directly from the clinic. To provide a unique perspective the book is edited by three individuals at different stages of their careers. Each chapter is authored by a young surgeon paired with a seasoned surgeon."
From Publisher's website.
Burning Mouth Disease A Guide for Patients / by
Isaäc van der Waal
Springer Nature Switzerland AG 2022
Explains the causes and symptoms of Burning Mouth Disease

Presents treatment modalities including pharmacological and non-pharmacological ones

Highlights neurological and psychogenic aspects of the disease
From Publisher's website.
Research Methods in Dentistry / by
Fahimeh Tabatabaei and Lobat Tayebi
Springer Nature Switzerland AG 2022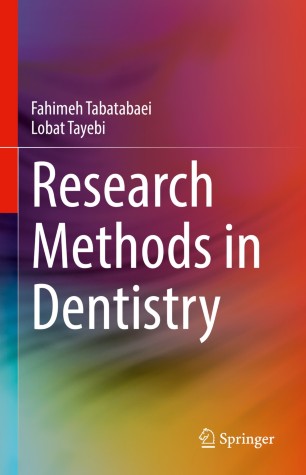 "
This classroom-tested textbook will assist dental students with their academic research activities and help them to be competitive in today's fast-growing research environment. It is designed as a core text for dental school classes such as Research Methodology and Scientific and Technical Writing, as well as Responsible Conduct of Research (RCR) training, but will also be a valuable resource for students and researchers in related fields, such as the medical sciences and biomedical engineering. The authors start the book by explaining key concepts and common approaches in dental research, both in basic science and clinical dentistry. They then familiarize readers with evidence-based research in dentistry and how to write a systematic review, explain the process of designing and presenting a proposal, discuss reporting results both in scientific and clinical research, and cover ethics in research, highlighting the significance of adherence to ethics both in animal as well as human studies.
Presents guidelines to overcoming research challenges faced by students pursuing dental degrees, as well as those studying the medical and biomedical sciences;

Provides comprehensive coverage of all aspects of dental research;

Covers ethics in research—in animal as well as human studies." From Publisher's website.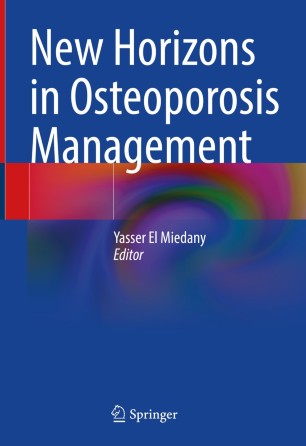 "
This book provides a review of the most recent data on osteoporosis and bone health, presenting a vision of diagnosis and management for the year 2021 and beyond. It covers all pertinent aspects of bone health including diagnosis, fracture prevention, optimized practice, impaired orthostasis, and falls.
The book examines recent developments in therapeutics, including goal-directed therapy, individualizing therapy, sequential and combined therapies, pharmaceuticals, and anabolic vs. antiresorptive therapy. In addition, it provides an in-depth overview of osteoporosis and bone health in complex patients, covering Duchene dystrophy, renal failure, periodontal diseases, and steroid-induced osteoporosis as well as considerations for pediatric populations and men.
New Horizons in Osteoporosis Management is an essential resource for physicians and related professionals, residents, fellows, graduate students and nurses in rheumatology, endocrinology, radiology, pediatrics, primary care, and internal medicine." From Publisher's website.



Management of Head and Neck Vascular Lesions / edited
Sanjiv C. Nair and
Srinivasa R. Chandra
Springer Nature Switzerland AG 2022

"This book provides a simple, step-by-step guide to the identification and sequential management of vascular lesions in the body. Since most vascular lesions occur in the head and neck area, the surgical interventions present challenges with regard to facial growth, airway management and reconstruction options. This book explores the treatment of head and neck vascular malformations and tumors from the perspectives of various specialties, such as otolaryngology, and pediatric, maxillofacial and plastic surgery.
It covers surgical anatomy, pathophysiology, molecular basis, medical treatment, current embolization guidelines and surgical resection and reconstruction options for each type of tumor. It also discusses interventional and diagnostic radiological techniques. Written by leading international specialists, the book is a valuable resource for craniofacial, pediatric, maxillofacial, head and neck, and plastic surgeons as well as pediatricians and otolaryngologists." From Publisher's website.


Springer Nature Switzerland AG 2022


"Over a decade has passed since the original edition of The Clinician's Guide to Dermatologic Differential Diagnosis first came out. This massive two volume, second edition undertaking features over 4,000 new photographs of rare and puzzingly symptoms, 98 new chapters, and presents a complete update on all references and new findings since the original publication.
This two volume set is designed to assist in the diagnosis of skin disease by presenting a unique and comprehensive approach to differential diagnosis. Organized alphabetically by physical finding each book in the set is meticulously put together for utility and usability. Volume 1 features a comprehensive list of the variety of physical findings a patient might have. It is the text of the work. Volume 2 serves as the atlas with which to cross reference a physical finding. It includes over 10,000 patient photos and strives to feature the rarer, more difficult to encounter pictures to arm the reader with knowledge beyond the basic.
Created purely with the reader in mind, The Clinician's Guide to Dermatologic Differential Diagnosis, 2nd Edition strives to enhance the learning and teaching of differential diagnosis within dermatology. These texts are for the patient that defies diagnosis, going through checklists of diseases ensures that no clue is missed in aiding the patient. The sincere hope is that these companion volumes will be helpful in all clinical setting from medical clinic and other specialty clinics to the Dermatology clinic, from medical students to attendings, and from the nurses to the physicians assistants, whether in the academic setting or in the community environment anywhere in the world." From Publisher's website.



Clinical Dentistry Daily Reference Guide / by William A. Jacobson
2022 John Wiley & Sons, Inc.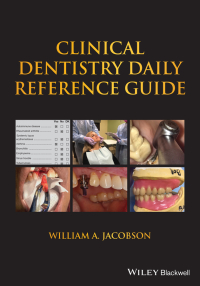 "
CLINICAL DENTISTRY DAILY REFERENCE GUIDE
The first and only practical reference guide to clinical dentistry
Clinical dentistry involves the practice of preventing, diagnosing, and treating patients' oral health conditions. Clinical Dentistry Daily Reference Guide is a one-stop resource loaded with critical information for day-to-day decision making regarding a myriad of clinical scenarios. This invaluable resource saves time by eliminating the need to search through websites, textbooks, and phone apps to find answers.
This book offers step-by-step assistance on health history treatment modifications, oral cancer screening, radiographic interpretation, treatment planning, preventive dentistry, periodontics, operative dentistry, endodontics, oral surgery, toothaches, crown and bridge, dentures, partials, implant crowns, occlusal guards, pharmacology, pediatric dentistry, nitrous sedation, and more.
This comprehensive guide:
Provides quick access to information in an easy-to-read bulleted format

Includes hundreds of high-quality clinical images, illustrations, and tables

Answers real-life patient questions

Contains procedural steps including post-operative instructions, lab prescriptions, troubleshooting, and clinical pearls

Features alphabetized medical conditions and treatment modifications, evidence-based guidelines including the dental traumatology guidelines, tables of common medications converted to pediatric dosages, and more.

Helps dentists gain confidence in their decision making
Clinical Dentistry Daily Reference Guide is a must-have book for all dental students and practicing dentists, both new and seasoned. Other dental professionals that will benefit from this book include dental educators, expanded function dental assistants, and dental hygienists." From Publisher's website.


Dental Management of Sleep Disorders, Second Edition / by

Dennis R. Bailey

and

Ronald Attanasio
2022 John Wiley & Sons, Inc.


"
The newly revised Second Edition of
Dental Management of Sleep Disorders
delivers a focused and authoritative exploration of the dentist's role in managing patients with sleep problems, especially sleep-related breathing disorders and bruxism.
Full discussions of the use of appliances, overviews of current treatment modalities, and investigations of the relationship between sleep disorders and dental and orofacial features accompany detailed chapters on oral appliance therapy, pharmacological, and behavioral management of symptoms. The book includes a variety of revealing case studies that examine the treatment of different sleep disorders, as well as:
Thorough introductions to the societal impact of sleep disorders and human sleep architecture and functional anatomy of the airway

Comprehensive explorations of the pathophysiology and classification of sleep disorders and sleep disorders in the pediatric population

Practical discussions of medical disorders related to obstructive sleep apnea and the dental and orofacial consequences of sleep-related breathing disorders

In-depth examinations of the role and interaction of the dentist with the sleep physician and sleep study center
Offering practical advice for diagnosis and treatment, Dental Management of Sleep Disorders, Second Edition is a valuable resource for dental practitioners as well as students." From Publisher's website.


Digital Dentistry: A Step‐by‐Step Guide and Case Atlas / by Arthur R.G. Cortes
2022 John Wiley & Sons, Inc.


"
An indispensable introduction to using digital technology in dentistry
Digital Dentistry: A Step-by-Step Guide and Case Atlas provides basic information on the use of digital resources to find a diagnosis, create a treatment plan, and execute that strategy within different dental specialisms.
This manual includes the science behind all procedures that use digital technology and provides a clinical step-by-step guide toward the use of these developments for every dental specialty area. Users will find a wide range of areas covered, from prosthodontics, restorative dentistry, and endodontics to oral and maxillofacial surgery and public health. This book also includes:
A guide to all current basic digital imaging and CAD-CAM procedures, with an emphasis on the most popular systems and software programs.

An atlas of multidisciplinary cases that were treated with digital dentistry, from diagnosis and treatment planning to execution and follow-up, in order of complexity

Assessment of the scientific basis for using digital dentistry in each category

A presentation of clinical cases to support the use of digital methodologies in all relevant scenarios

An exploration of the role of digital dentistry in dental public health, preventive dentistry, and dental education
Ideal for dental clinicians—general practitioners and specialists—as well as all other dental professionals, such as dental technologists, dental hygienists, and dental students, Digital Dentistry: A Step-by-Step Guide and Case Atlas is an essential tool and reference work to help dental practitioners streamline and update their practice with the most up-to-date technologies." From Publisher's website.


New Theses

Use of Nudges to Facilitate Parental Decision-making Regarding Behavior Guidance Options for Dental Treatment for Preschool Children: An Exploratory Study / by Rita-Marie Chami
MSc, University of Toronto, 2022

Correcting Deficient Papillae and Gingival Recession using a Conservative Surgical Approach utilizing a Dermal Filler (Juvéderm) and Enamel Matrix Derivative (Emdogain); A Pilot Study / by Alexandra Jean Hunter
MSc, University of Toronto, 2022

Assessment of Concordance between Chair-side Ultrasonography and Clinical Palpation in Detecting Trigger Points in Masticatory Myofascial Pain Syndrome / by Mohamed Elbarbary
MSc, University of Toronto, 2022
Effect of Tooth Bleach on Dentin Fatigue Resistance In Situ / by Jacob M. Fitzgerald
MSc, University of Toronto, 2022


Evaluation of an Online Physician Education Module for the Assessment and Management of Non-traumatic Dental Pain and Infection / by Robert Paul Masayuki Matsui
MSc, University of Toronto, 2022

A Comparison of Primary Maxillary Incisor Zirconia and Composite Resin Strip Crowns: A One-year Feasibility Study / by Stephanie Labbe
MSc, University of Toronto, 2022

A Retrospective Study on Endodontic Treatment Outcomes in Patients with Special Needs / by Caithlin Paul-Ann Williams-Beecher